2017-18 Fall and Winter
And now there are two! Only Borealis and Holly are still transmitting. Holly once again dodged cell-towers almost all the way across northern South America, but has now checked in and is back at her winter home. This has been the worst fall ever. A tough way to end my migration studies, to say the least. Scroll down for updates (29 Sep).

All Birds - Fall/Winter 2017-18 (15 Aug-15 Mar)

Move the gray rectangular slider at the bottom of the interactive map to animate the birds' movements.

Dates in parentheses are the fall departure and arrival dates from last year, followed by the departure and arrival dates for 2017.

Staddler (hot pink), (5 Sep-13 Oct 2016, 9 Sep- 2017). Hampton, NH, adult male. Raised 1 young. Lost in the Gulf of Venezuela.

Holly (yellow), (29 Aug-16 Oct 2016, 28 Aug- 2017). Chesapeake Bay female. Back in far eastern Brazil.

Shana (red) (16 Sep-28 Oct 2016, 9 Sep- 2017). Adult female from St. John's, Newfondland. DIed in the Caribbean, just off the coast of Colombia.

Daphne (aqua) (2 Sep-17 Oct 2016, no migration). Adult female from St. John's, Newfoundland. Found dead 30 Sep 2017 after fledging 2 young.

Flow (green), (29 Sep-8 Oct 2016, 19 Sep- 2017). Essex, MA, 3-yr old male. Killed almost certainly by a Great-horned Owl.

Layla (white) (21 Sep- 2017) Fledgling from Wash., DC, tagged 21 July. Left home 6 Aug. Diasappeared mysteriously over Florida.

Tommy (olive) (14 Sep- 2017)- Juv male from St. John's Newfoundland. Son of Shana. Taggd 28 Aug. Probably Great-horned Owl victim in Maine.

Da Rock (gray) - Juv male from St. John's, Newfoundland. Tagged 29 Aug. Dispersed 12 Sep. Signal lost in NFLD.

Aster (gray) - Juv female from St. John's, Newfoundland. Tagged 29 Aug. Radio failed 4 days later.

Borealis (orange) (16 Sep- ) Juv female from St. John's, Newfoundland. Tagged 12 Sep. Heading south over Florida.

Notes: Hover the cursor over a dot to see which bird is which. Click on it for location details

You can zoom in and out and move the map around. If you slide a birds marker along its path, you'll see where the other birds were when your bird was wherever you have the marker. You can also use the calendar to see where all the birds were on a given date.
Updates:
(Scroll up for interactive map)
12 Jan 2018
It's been a long time since I've posted an update! Blame it on the shoulder replacement surgery or low spirits after losing so many birds this fall. We're down to our last two birds--Borealis and Holly. Borealis is doing fine in southwestern Florida, while Holly is, presumably, OK somewhere in far eastern Brazil.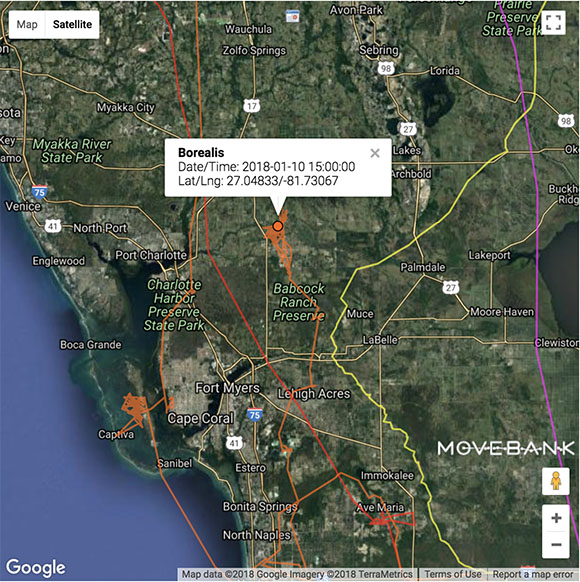 After her extended stay in New Haven, Borealis finally got to Florida in mid-November. She settled down between Fort Myers and Captiva Island for almost a month. It certainly looked like that would be where she spent her gap year/18 months. It looked like a perfect spot. Then she decided to make a move and flew down to the southern tip of Florida on the 13th and 14th of December. This looked like she was rebooting her migration, with a directed move to the south. That may have been the case, but she seemed unwilling to cross the water to the Keys and instead turned east and then retreated to the north. She passed through an area where he neighbor from St. John's Newfoundland, Shana, spent some time earlier in the fall, and is now settled down northeast of Fr. Myers.
We haven't heard from Holly in a long time, but I'm not too worried. She's a cell-tower bird and has probably wandered out of range of a tower. She did this last winter, going dark early winter and then showing up later in the year. It probably has something to do with water levels in the reservoir she frequents, or down river where she spent the early part of last year.
5 October
Two more birds have stopped transmitting. Layla was moving south in Florida and stopped signalling from one hour to the next. She wasn't near any hazards, so this is a total mystery. Up in Newfoundland, Da Rock retreated to "The Rock," as Newfoundland is known after a second aborted start to his migration. He seemed to have settled down in a very remote area and then we lost his signal. His radio was suspect anyway (it had not been stored properly over the winter), that just may be a radio failure.
29 September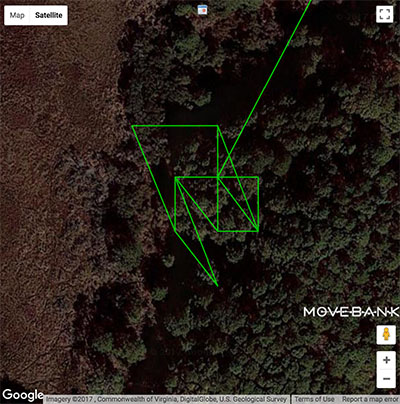 It has been a bad week. Between the 21st and the 23rd we lost three birds. Flow, a male tagged as a juvenile in Essex, MA, in 2014, began his third trip south on the 19th or 20th (there was a gap in his data). He made it to Assateague Island just across the VA state line. The first signal on the 21st was in a woodlot, all subsequent GPS fixes were basically at the same point. We call a cluster of of points like this the rectangle of death. The weather was fine, there's nothing he could have flown into, so this may be another Great-horned Owl attack. It was really disappointing to lose Flow. He was one of only 4 Ospreys tagged as juveniles to make it through two full migration cycles. It looked like he was going to settle down next season somewhere in southern ME or coastal NH. Newly tagged Tommy, migrating southwest from Newfoundland, dropped off the map on the 23rd. This was a complete mystery. He had a new radio, so we can't blame radio failure, and the weather was fine. He perched along the Sandy River in central ME at 5PM. He may have moved again, but we only have two more locations, at 6 and 7 PM, then he disappears. Typically, with birds we suspect were killed by owls, we get a cluster of points because the radio is on the ground and the battery charge will last a few days.
And then there's Staddler. He ran into some rough weather over the Caribbean, made a sharp turn southwest and then made it to the Paraguana Peninsula in northernmost Venezuela. Seemingly inexplicably, instead of stopping and resting, he wound up floating in the Gulf of Veneuela. See a video that my colleague Iain MacLeod of the Squam Lake Natural Science Center put together showing what Staddler experienced here. He floated for over 30 hours, drifting along at 1 mph.
2017 - The Year in Review
2 January 2017
Happy New Year to all! Not much going on with the "flock," other than a strange 400 mi (ca. 600 km), 4-day road trip that one of our Newfoundland adult females (Shana) made up the Orinoco River. She left on Dec 22nd and returned to her winter HQ on the Arauca River in Venezuela's state of Apure in time for Christmas dinner. It's very unusual for an adult to move so far after settling down on its winter range. Up in the D.R. our young Newfoundlander Leif definitely seems to have settled down at Laguna del Rincon. He's made one short foray northeast, but returned quickly to Rincon. It's unlikely that he'll move on to South America, but it wouldn't be completely unprecedented (one other bird has made a big move after the turn of its first year).
3 February
Sad news to report. We've lost the last surviving juvenile from our summer expedition to Newfoundland. Leif Erikson had settled down at Laguna del Rincon in southwestern Dominica. After a couple of weeks there, it became obvious that he wasn't going to continue his migration and cross the Caribbean. Instead, he's the 5th out of 5 juvenile Osprey that tried to winter in the D.R. that died. We have no idea what happened to him. His last signals were from the side of a road leading to the lake. The road's not near water and too isolated for there to be enough traffic that we might blame this on a vehicular collision (unlike Edwin alongside I-95 in Connecticut last year). He might have been shot by a hunter, but he wasn't near a fish-farm, so we have no firm evidence. There are some wires along the road, so he might have collided with one of them. We can't blame a Great-horned Owl--a prime suspect when an Osprey roosts in a woodlot and doesn't come out the next morning. So this is just an inexplicable loss. There's a chance still that we might find the transmitter. Right now it's not transmitting because the battery has discharged. If a scavenger flips the body and transmitter over, the battery may recharge and we'll get a signal again. This is what happened to Virginia's transmitter down in the marshes of South Carolina. That transmitter's sitting on my windowsill waiting to be redeployed late this summer. This happened with a few other birds, going all the way back to Bunga in 2004.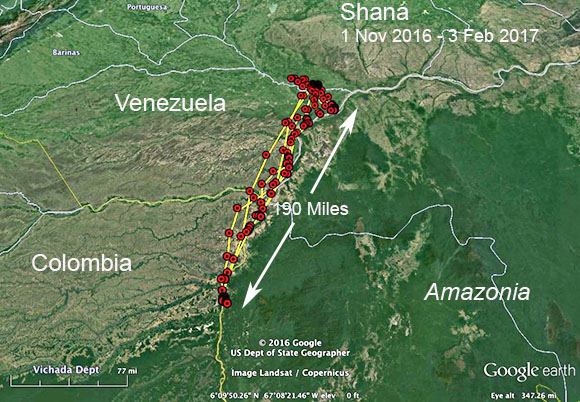 Shana, Newfoundland mother of Virginia and Jocelyn, continues her surprising movement up and down the Orinoco River. Her first trip south was a 2-day trip starting 23 Dec. On 5-8 Jan, she worked her way up and back down the Orinoco River--a 125 mile (ca. 200 km) trip. On 13 Jan, she flew south (upriver) again and is currently in the tiny village of Buena Vista, right at the northern edge of the Amazon Rainforest. She commutes through Colombia briefly between her two favorite spots, which are both in Venezuela. It is very rare for an adult to move this much once they've arrived at their winter locations. Nick (see below) is one of the other outliers in this regard.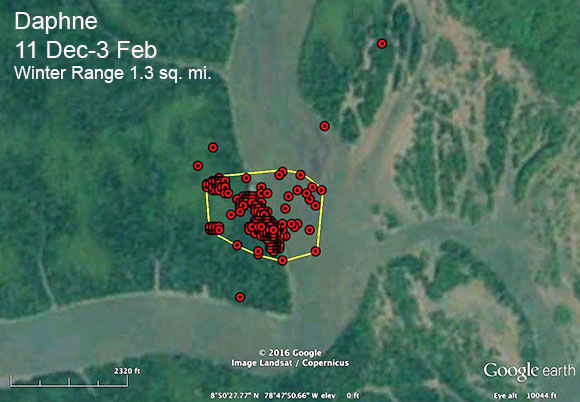 Daphne, our other Newfoundland adult female, although a bit extreme, is more typical, having settled down on the shores of the Gulf of Panama. Since 11 December, 95% of her locations are in an area of only 1.3 square miles! While the size of her winter range is typical (if a bit on the small side), the location is not. She's only the third adult we've tracked to go from Cuba to Central America, rather than South America via Hispaniola. This suggests to me that when she made her first migration south, she took this route, wintered in Panama, and then when it was time to go home, she headed north through Central America, found her way back to Cuba and then back up the east coast to Newfoundland. On her subsequent migrations, she followed more or less this same route.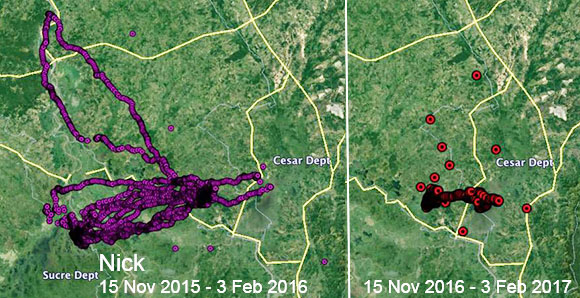 Nick, an adult male from Chesapeake Bay is the other exception to the general rule that most adults barely budge once they're on their winter waters. (One bird spent 5 months in 0.25 square miles!) Last year Nick moved around the Magdalena River Valley in northern Colombia quite a bit. This year he's barely moved. It's very intriguing that the same bird would behave so differently in two years. I suspect some difference in rainfall and levels of innundation are the reason. When Nick leaves South America this spring, we will lose track of him, unless he stops in Haiti. His transmitter uses the now obsolete 2G cell-tower technology, which was phased out in the U.S. as of 31 December. Now, we'll only hear from him when he's down in Colombia. [Editor's note: It turns out we will be hearing from him after all!]

Everything seems to be fine with Belle down on the Rio Madeira. Staddler is still based at Lake Tefe, but he's been commuting across the Solimoes (as the Amazon River is called locally) on a fairly regular basis. Wausau is also doing a bit of local commuting up in Colombia, just east of the Andes. Flow is hunkered down at his Cuban reservoir. This will be his second trip north. Last spring he got the typically late start (27 Apr) that we expect from our "teenage" Ospreys on their first migration north. Look for him to begin migrating a lot earlier this year.
Finally, our 2016 tagged couple, Holly and Hackett, are unknown quantities. We've had sporadic signals from Holly in the far eastern reaches of Brazil over the course of the winter. Hackett is either dead or in some place far from cell towers, or most likely, in Cuba, where there are plenty of cell towers, but not run by any company we can do business with. Best case scenarios for them is that they'll show up in Florida in early March.
9 March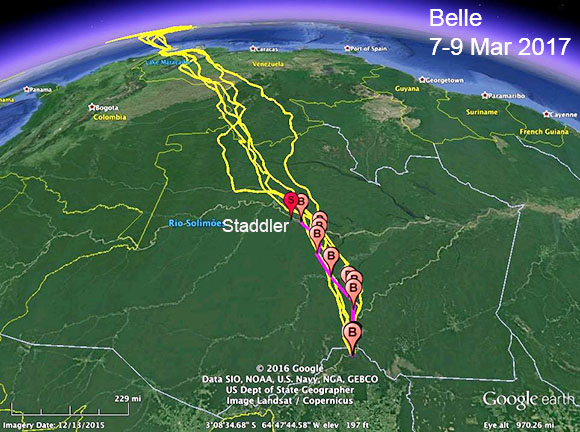 Belle began her record-breaking 6th migration north on March 7th. Around 1PM on the 9th she was just 25 miles east of New Hampshire adult male Staddler. She's flying over well-known terrain. The yellow tracks are her previous spring trips.
Everyone else is presumably packing their bags and loading up on fat, the fuel that keeps them going through the spring dash to get home. Spring migration is much more directed than fall. In the fall the birds are in no rush to get to their winter waters. They drift around more (not fighting crosswinds) and take longer stopover breaks than in the spring, when especially the males are in a rush to get home and make sure no young whippersnappers get any ideas about muscling in on their territories.
Nick has been moving around quite a bit, but no signs of a start to his migration. Once he leaves South America, we won't hear from him again until next fall! His transmitter uses the now-obsolete-in-the-US 2G cell tower technology.
Holly has been checking in recently with some frequency after a month hiding out somewhere far from cell towers. We still don't have the full download of her trip south. We're hoping we'll get that when she's close to some towers for an extended period.
16 March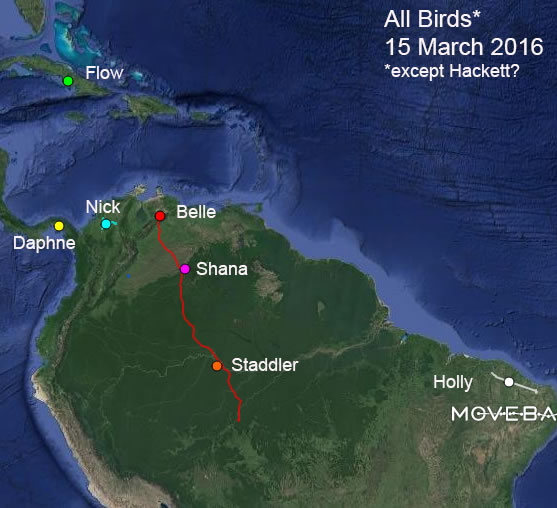 Our second bird is on the move! Holly, an adult female from Annapolis, MD, on the western shore of Chesapeake Bay, set off on her first migration north wearing one of our transmitters. Hers is a GSM, or cell-tower radio. We only hear from her when she's about 15 miles or closer from a cell-tower. During her fall migration we lost track of her going through Cuba--we can't do business with Cuban cell-tower companies, so this is a black hole for our birds--and then had a brief download as she passed over Hispaniola, then nothing until she got to the far eastern tip of Brazil in the state of Rio Grande do Norte. Her winter range included an area where she was in reach of a tower and another where she wasn't. So we got a signal from her about once a month. In the end of February she moved into range of a tower and we began to get fairly regular messages. On the 14th or 15th she began the trip north. We're missing the data from her trip south, so we don't know exactly how she arrived, but the trip north should take her along the northern tier of South American countries to the Paraguana Peninsula on the eastern side of the Gulf of Venezuela.
Belle left the Rio Madeira on the 7th, 3 days later than her departure last year, but caught up a day by the time she across the Andes in Venezuela.
21 March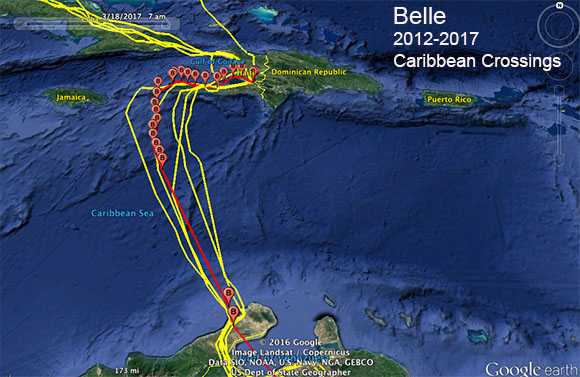 Belle is safely across the Caribbean for the 6th time. She is certainly a creature of habit. The yellow tracks are her crossings from 2012-2016. When she leaves the Guajira Peninsula in northern Venezuela, she tracks northwest, probably pushed by the Trade Winds. When she makes landfall in southwestern Haiti, the shortest route home would be to continue northwest to Cuba, a distance of about 100 miles. This is what most north-bound Ospreys do. But Belle has a favorite fishing hole about 200 miles east of where she arrived in Haiti. It's Lake Azuei, one of two rift-valley lakes that lie below sea level along the Haiti-Dominican Republic border.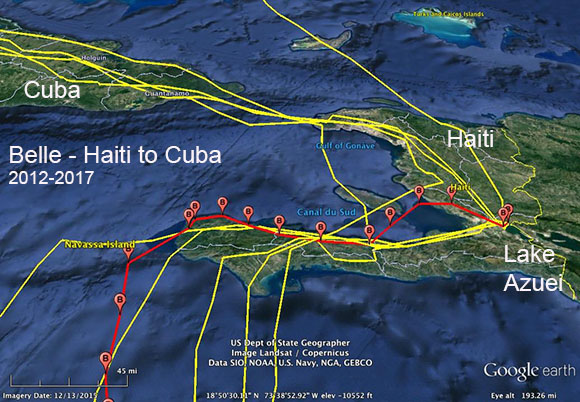 The detour adds over 300 miles (500 km) to her trip, but of course she doesn't know that. She discovered Lake Azuei on her first migration north in 2012. Since then she has stopped in to fish on 3 of her 5 trips south and, with this year's visit, 4 of 6 trips north. On her first visit we got a full day of locations from one spot out on a marsh. This almost never happens with a live bird. I was convinced that she was a goner and had written an obituary for the website. Before I could post it, her signals started moving again, and 5 years later she's back to the same spot!
Nick, our Chesapeake Bay male (tagged in 2013) began his 4th trip north wearing a cell-tower transmitter on the 20th, 2 days later than last year. I have written earlier that we would lose his signal once he got back to the States because his transmitter uses the 2G network, which is being phased out. But I just learned from Microwave Telemetry that they have negotiated a deal with a new carrier that will enable us to continue to receive data from Nick.
Holly, an adult female from Annapolis, MD, is moving north, but in an area free of cell towers.
29 March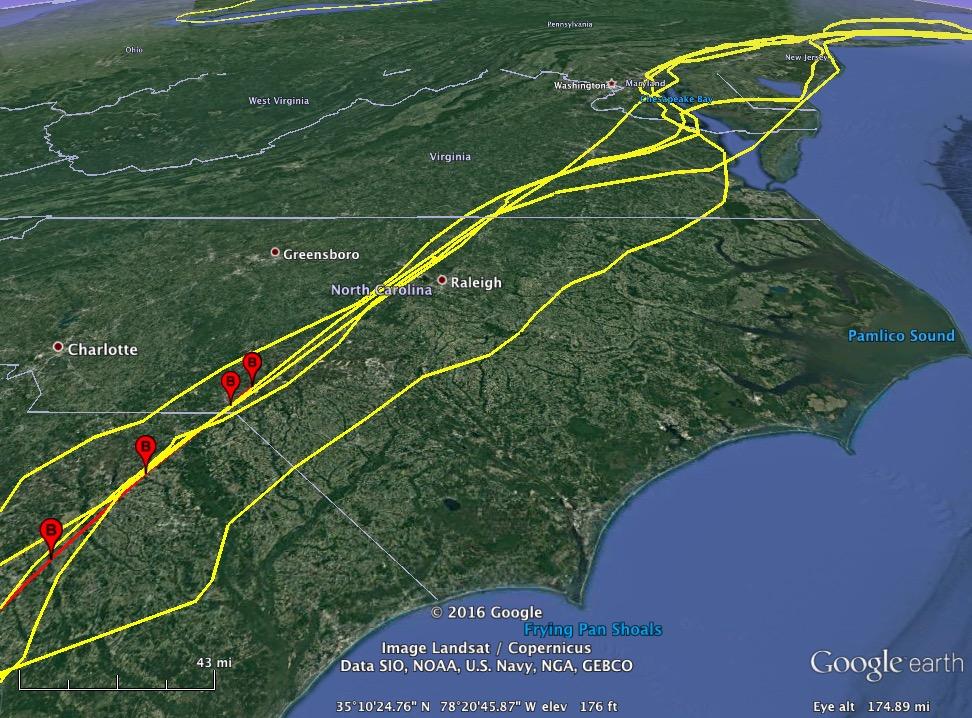 Belle is in North Carolina, following in her wingbeats from 4 of her previous 5 spring migrations. Except for 2014, each spring she (or he--Belle may have some transgender issues because we identified Belle as a female, but Belle's migration behavior suggests Belle should be "Beau" but Dick Jennings saw Belle after his/her first migration north and saw a strong breast band, which would suggest Belle is Belle and not Beau) has flown northeast across the state, passing between Chapel Hill and Raleigh [One of my old English teachers is twitching in his grave after that sentence went out over cyberspace]. No other Osprey in North America has been followed for this many migrations, and I suspect that includes Europe as well. Certainly, no Osprey tagged as a juvenile has provided this much information about the species' migration biology. Go Belle!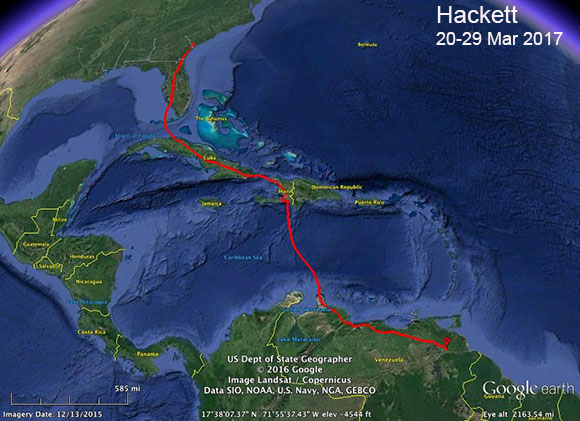 Hackett, our adult male from the western shore of Chesapeake Bay near Annapolis, MD, along just popped back up! He's been rather chatty since he got back online, texting us about where he's been all winter. We were almost certain that he had wintered in Cuba, given his radio silence since last fall. It's rare for a bird to get past Cuba and not check in at all passing through Haiti, the D.R., and northern Colombia and Venezuela. But as the data came in--bit by bit, or byte by byte, we discovered that Hackett is one sneaky Osprey! He dodged all those cell towers (both on the way south and the spring return) and wintered at the western edge of the Orinoco River delta. He started his migration on the 20th and 10 days later was in South Carolina, having covered about 2,500 miles (ca. 4,000 km) in 10 days. That's really fast. He is clearly in a hurry to get home.
Holly, Hackett's mate, is presumably moving northwest across the northern tier of South America, where cell towers are scarce. She made it all the way from Hispaniola to eastern Brazil last fall without checking in once. We last heard from her on 15 March 300 miles (460 km) west of her winter waters. From that point she still had about 2,300 miles (3,600 km) to go to reach the northern tip of South America on the Paraguana Peninsula, on the eastern edge of the Gulf of Venezuela. That would take 10-14 days, so we should hear from her soon--if she passes by a cell tower before crossing the Caribbean.
Nick is somewhere between South America and Florida. Many north-bound birds go straight to Cuba, so we often don't hear from cell-tower birds until they get to Florida.
Staddler, adult male from coastal New Hampshire, left his winter HQ at Lago (Lake) Tefe along the Amazon river on the 22nd, 3 days later than in 2016. It seems pretty clear that he has been texting with someone in New Hampshire and has been advised that winter is a bit late in passing the baton on to spring up there, so a few days' delay in departure would be a good idea.
31 March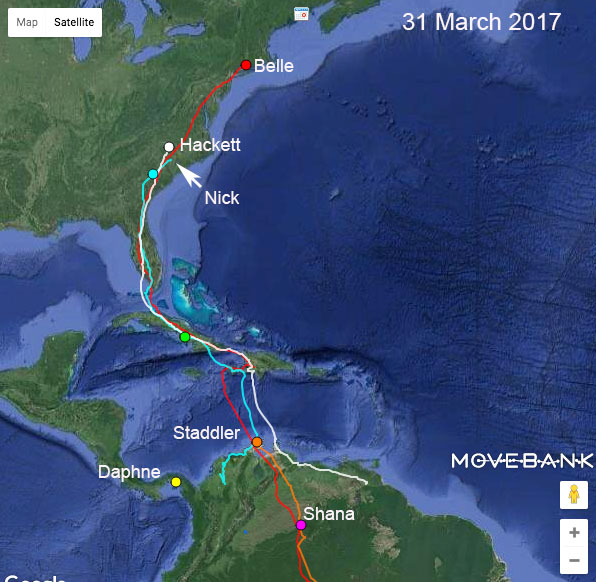 Nick, a cell-tower bird from the Chesapeake Bay is back on the air in South Carolina, just a few days' travel to his home on Tangier Island. Nick's transmitter is old--built in 2013--and uses 2G cell-tower technology, which has been phased out by one carrier. We thought that meant that Nick would "go dark" when he got back to the states, but Microwave Telemetry has negotiated a deal with a different carrier, so we'll be getting data from Nick after all.
Belle is probably home on Cape Cod already, just in time for a late winter storm! She left the winter waters 3 days later than last year and got home 2 days later than last year, so she made up a day en route.
Hackett continues to push north toward his nest in Annapolis. No data from his mate Holly for more than 2 weeks, which is worrisome. By now she should have made it to the states, where she'd find a cell tower, but she was starting from so far east in Brazil that it's too early to give up on her.
Our two gals from Newfoundland, Daphne and Shana, seem in no rush to get home. They're due to arrive in late April, so it may be a while before they push north. (Of course now that I've written that, they'll take off later today!)
7 April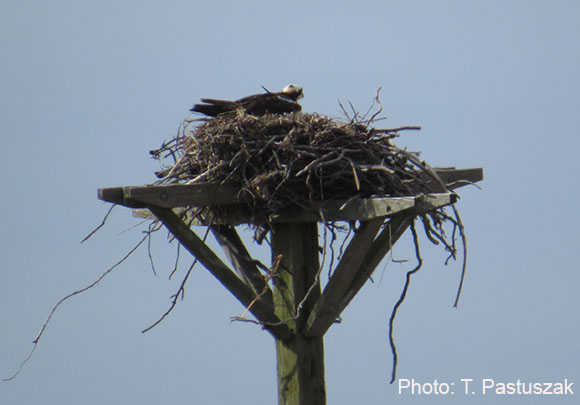 Snowy's back on his nest on Nantucket! We don't know exactly when he got back, but Trish Pastuszak photographed him and his mate at their nest. We'll try to trap him in late May to get the old transmitter off his back and give him a color band so we'll be able to recognize him in the future.
Belle, Nick, and Hackett are all back. Hackett is waiting for his mate Holly, who survived a series of violent storms as she moved through the Carolinas, to return to their nest. [I was sure that Holly was dead and had even posted a version of this update announcing her demise when she showed back up!]. Nick is hanging around where there are 2 nest platforms on Tangier Island. Maybe we can get some eyes on the nests a little later in the spring to see if he nests this year. It wasn't clear last year what happened, but he did not nest. We don't know if he started and the nest failed or if he never got paired up.
Flow (Essex, MA) and Shana (St. John's, Newfoundland) are hunkered down, waiting for I don't know what. Flow's only on his 2nd migration north, and these "teenagers" never do anything on time, so I'm not surprised there. Shana can't be in any rush to get back to Newfoundland, as they're still iced over up at that latitude.
13 May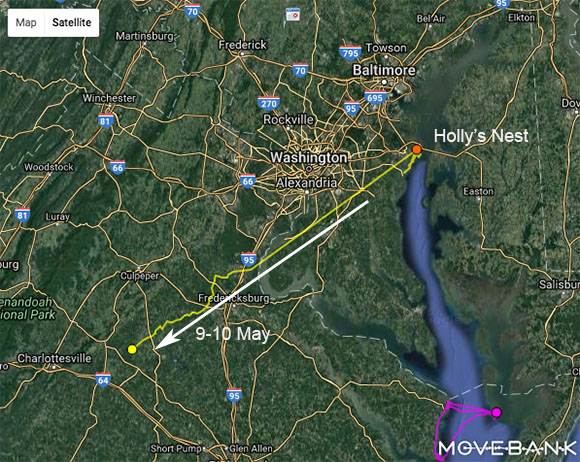 I'm way behind on updates! All our 8 birds got home safe and sound. I'll get to the spring migration recap soon, but in the meantime, Belle's radio finally failed, and we have a renegade Osprey in the Chesapeake. Holly was clearly sitting on eggs for a couple of weeks, but now she's left her nest and ismoved southwest, to a small lake 100 miles southeast of her nest! This can only mean that the nest has failed. At first it was hard to imagine what had happened. The nest is out over the water, so no raccoon could have gotten to it. Holly was on eggs, so no Bald Eagle could have snatched her young. I finally zoomed in on the nest to see what had been happening and discovered that all of Hackett's GPS fixes were pretty mucn in one spot for about 5 days, and then his signal disappeared. This can only mean that he died. Once Hackett stopped delivering prey, Holly had no choice but to abandon her eggs. Once she had given up, she made a bee-line (Osprey-line) straight to a small lake in central Virginia. This was clearly a directed flight to a known location. She didn't just wander around the countryside in search of a good fishing spot. She went somewhere she knew was a reliable source of fish. We've seen lots of birds do this after a nest failure.
6 June 2017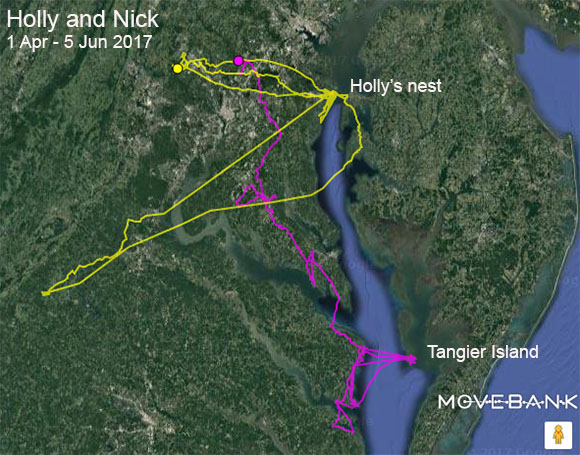 Nick got back to Tangier Island in Chesapeake Bay where we tagged him all the way back in 2013. As in previous springs, he didn't seem in a big rush to get over to Tangier. He arrived on the west shore of the Bay and hung out for a few days before going over to Tangier. Once he got there, he spent some time at the platform where we trapped him and a second platform a bit east of his 2013 nest, but began commuting back and forth across the Bay, never spending more than 5 days on Tangier for the first three weeks. Eventually he left Tangier completely and wandered all the way to Maryland northeast of Washington, DC, where he crossed paths with Holly, who's on a fly-about after her mate died mysteriously back around 10 May.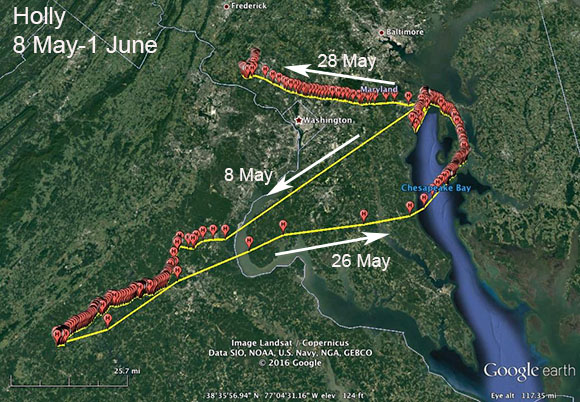 Up in the northern reaches of Chesapeake Bay near Annapolis, Holly and Hackett returned to their nest. Based on Holly's GPS locations, she laid a clutch of eggs. All looked good until 8 May, when Holly left her nest and flew in a bee-line about 120 miles to a small lake about NE of Washington, DC, where she settled down for 19 days. This seemed inexplicable until I looked closely at Hackett's data and discovered that his signals were all coming from the same spot, about 60 yards from his nest on the shore of the Bay. It's a total mystery what happened to him, but once we realized he was dead (we recovered his body about a week later), we understood why Holly had abandoned her nest. An incubating female is completely dependent on her male to feed her. Once the food stopped coming in, she had no choice but to abandon her nest. What's fascinating here is her retreat to a small freshwater lake so far from Chesapeake Bay.
We've seen this behavior in a number of adults whose nests have failed. They leave the nest area and head off to some favorite fishing hole that they had discovered some years before. We're missing some of her track, but when the GPS picks up again, you can follow her moving from pond to pond. She returned to her nest on the 26th, spent two days there, and then headed off again. Adults whose nests have failed have to maintain a watch on their territory to make sure a young pair doesn't get any ideas about usurping the nest. This will often entail commuting between inland fishing holes and coastal nests, just like we see with Holly.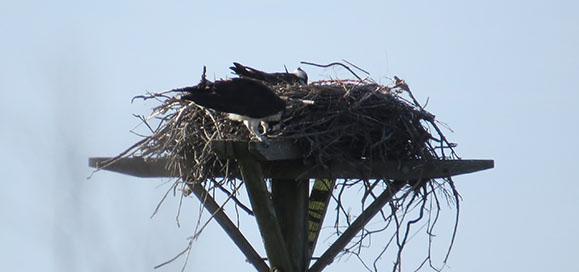 Up in New England, Snowy, still wearing a non-functioning transmitter, is back at his nest in Nantucket. Last year he was the first of our tagged juveniles to sire a clutch of eggs. His nest failed last year, which is not unusual for a first-time breeder. in late May he was photographed by Trish Pastuszak incubating eggs while his female ate the fish he had just delivered.
On Cape Cod and the Islands, Belle was up to his/her usual shenanigans, mostly on the Cape, but visiting the Vineyard 5 times and Nantucket once. There was no sign of her attending to a nest before her radio failed.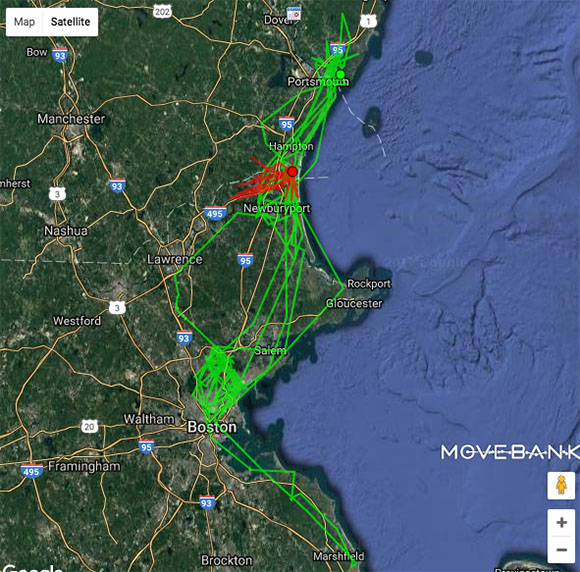 Further north still, up in coastal New Hampshire, steady-Eddie Staddler (red track) is attending his nest, fishing inland mostly along the Merrimack River and adjacent ponds, without a single foray out into the open salt water, which is his typical routine. Meanwhile, our 2-yr old male from Essex, MA, Flow (green track) has been exploring much of the east coast of Massachusetts. He started out spending a lot of time around some ponds just north of Boston. He's also been down to Marshfield on the South Shore, and now is spending a lot of time up in Portsmouth, ME. As he bounces back and forth between his favorite areas, he keeps passing through Staddler's range. It's always fun to give way to the urge to anthropomorphize and wonder if they've seen each other and had a chat about their transmitters. We'll pay close attention to where he spends most of his time in late summer, as this seems a good indication of where young birds will try to set up a territory in the following spring. It's worth noting that he has shown no interest at all in his natal area, which is just west of Gloucester.
23 July
The summer season has been smooth sailing for our tagged birds. Up in Newfoundland, Shana and her mate, named "Beaumont" in a name-the-Osprey competition in the St. John's grade-schools, are taking care of two young. Three young hatched, but the smallest young died after 10 days or so. The loss was a bit of a mystery. There seemed to be plenty of food and there was no sibling aggression. The bird just got weaker and weaker and one day passed away. Within a day, the body had disappeared into the nest as more and more trimmings were delivered by the adults. I will be trapping at this nest in late August, hoping to tag the two young. If we get lucky and catch Shana, I'll take the transmitter off her and put it on one of her young. You can watch this nest cam here.
Her neighbor, Daphne, seems to have a family going. Her locations look just like Shana's--almost all the points at her nest. We don't have eyes on this nest, so we don't know how many young she has.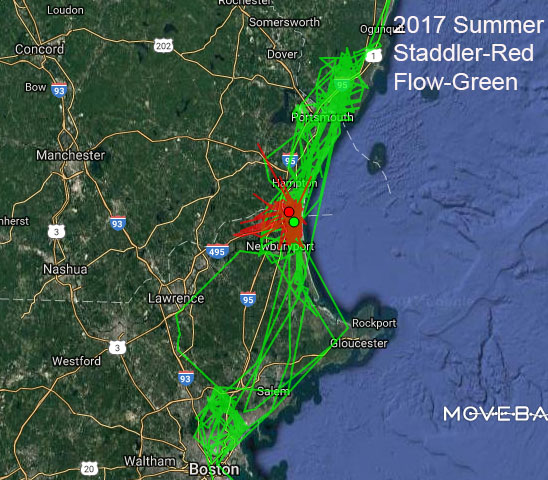 Down in Maine and New Hampshire, our adult male Staddler and his mate are feeding one young on the Hampton, NH, saltmarshes. As we saw last year, Staddler almost never hunts out over open water, but spends most of his fishing time down towards the Merrimack River. Our 3-yr old young male Flow, tagged in 2014 in Essex, MA, is exploring the countryside between southern Maine and Boston. Lately, he's mostly been up in Maine, but he will swing back down to Massachusetts every once in a while. He and Staddler have certainly seen each other as Flow has passed through Staddler's marsh many times. In the map here, I caught a moment when they were probably within sight of each other.
This is Flow's second summer back after his first migration. He's now in house-hunting mode. If we see him focus on one area in the last few weeks before he heads south, that may be where he tries to establish a territory next spring.
Down on the Chesapeake Bay, our newly widowed Holly has been commuting between some freshwater fishing holes she likes and her nest area near Annapolis.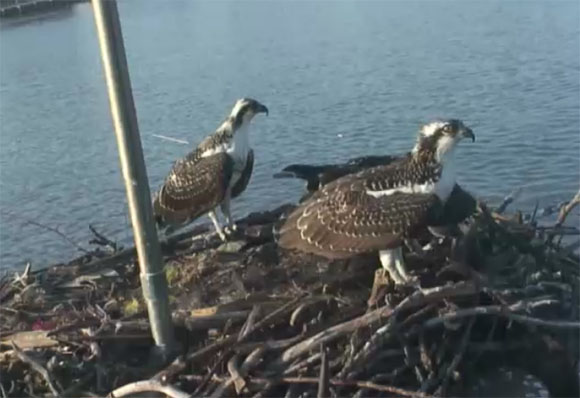 Further south, in the shadows of the Washington Nationals' baseball stadium on the Anacostia River in Washington, DC, we tagged a young female Osprey on 21 July. The bird was named Layla by some campers from the Barry Farm Summer Camp, who were at the the Earth Conservation Corp (sponsors of the transmitter) to learn about Ospreys. One of the campers, Layla, successfully lobbied for the bird to be named after herself. As she (the camper) left the ECC, she proclaimed that when she grew up she was coming back to run the ECC! They start early in DC.
For the first three days, Layla (the bird) was proving a bit mysterious and nerve-racking. We set our noose trap, baited with a nice trout, at a nest where we trapped an adult male (Ron Harper) back in 2013. About 40 minutes later a young bird landed on a perch overlooking the nest. She spent an hour or so preening and looking down at the nest. Then an adult landed on another perch over the nest. The young began begging for the adult to feed her. She did that for three hours. Finally, she hopped down to the nest and was quickly caught.
What was perplexing, and worrisome, was that three days later, she hadn't been seen back on the nest. Two other young were getting very well fed by their parents. but no sign of Layla. We got data from her transmitter on the 23rd showing her hanging out about 3.5 miles up the river the day after she was tagged. I don't think she's catching her own fish yet. One explanation was that she's a young from another nest. It wouldn't be the first time we trapped a young that was born at a nest near the one where we were trapping. As some may remember, our New Hampshire bird, Lizzie, left her nest and settled down for 10 days at a nest in Rhode Island. Had we set up to trap there, we would have caught a bird born in New Hampshire and never known it!

I always worry about tagged young until we see them settled back down on their nests. If we didn't have a cam on this nest, I would have just waited patiently to get the next data. But there was a camera and no signs of Layla, so I fretted until I saw her come in late this afternoon (24 July). Her nest mates were just finishing the fish they'd been feeding on when she flew in. Big sigh of relief!
It was so hot that we were concerned about her overheating and so rushed her processing as much as possible. This meant that we didn't take time to get a mug shot of her. So we'll have to settle for the screen-grab I got from her nest cam on the afternoon of the 24th (above).
15 August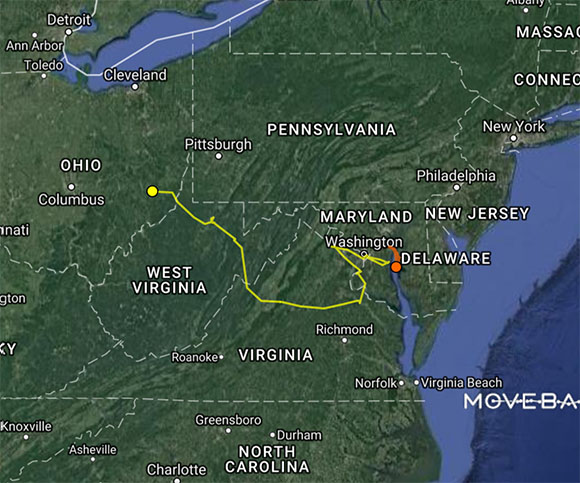 Layla is off exploring the world and has discovered Ohio! This is not all that unusual. Of 60 tagged birds that survived to start migration, 38 (63%) stayed near their nest until they started south, 7 (12%) left their natal areas and later returned home before migrating south, and 15 (25%) left home and did not return before beginning their trip south. It certainly looks like Layla will be in this latter category.
Down on the Chesapeake, Holly is biding her time before she begins her very long journey to the easternmost corner of Brazil. She, like most adults we've followed after a nest failure, commutes back and forth between her nest (keeping the "No Trespassing" signs posted) and a prefered hunting area. In Holly's case, this is in the waters near Tilghman's Island, about 10 miles south of her nest.
Flow is spending a lot of time on or near the Hampton Beach marshes in coastal New Hampshire, where our adult male Staddler lives, and just across the Maine state line north of the Portsmouth Naval Yard. I'll be looking for him to establish a territory at one of these two locations next year.
Up in Newfoundland, Shana's two young are looking great. The older one is beginning to flap its wings and do a wee bit of "helicoptering." Won't be surprised if the maiden voyage there happens within a week. We don't have eyes on Daphne's nest, but her satellite data tell us she's still got young in the nest.
30 August
I just finished tagging three juvenile Ospreys in Newfoundland, wrapping up 18 years of satellite tagging. While I was up in a Newfoundland Power bucket trunk on 28 Aug, down in the Chesapeake Holly was starting her second migration.
4 September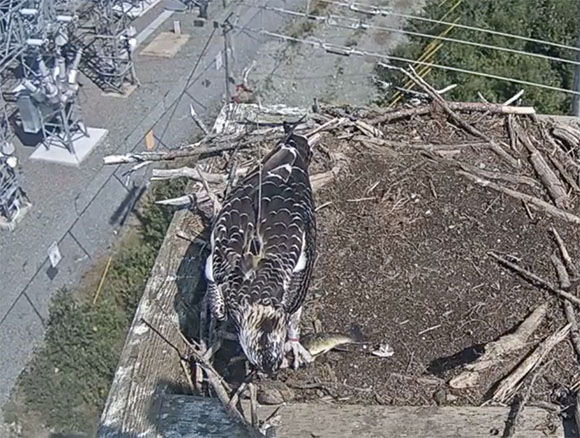 The newly tagged birds, all recent fledglings, up in Newfoundland are Tommy Ricketts (Shana's son, pictured here feasting on another trout, which is pretty much all they eat at this nest) hatched at the Snow's Lane nest, and "Da Rock" (a male) and Aster (a female), both born at the Memorial University of Newfoundland's Botanical Garden. Tommy has a new radio (thanks to Microwave Telemetry, the manufacturer of all the transmitter I have deployed over the past 18 years), while Da Rock and Aster are wearing recycled radios. Da Rock has Jocelyn's radio from last year, and Aster has Virginia's, also from last year. Both birds were hatched at the Snow's lane nest last year. Jocelyn died after a collison with something--probably a vehicle--and was found dead a few blocks from her nest. Virginia flew 2,250 miles over the Atlantic Ocean in 83 hours, landing in South Carolina at the northern edge of Hurricane Mathew. She did not survive the rest of the storm. Both radios were recovered.
Tommy and Da Rock seem to be exploring the world around them. Aster missed her upload on 3 Sept. Usually this is not a good sign, but last year one of the Newfoundlanders, Leif, gave us the same scare but resurfaced on his next check-in.
13 September
Emergency trip to Newfoundland! Daphne, an adult female tagged last year, stopped moving on 30 August. My partners in (Osprey) arms, Gerard Hickey and Larry Wall, braved some nasty St. John's weather and found the body deep in the Newfoundland bush. CSI reports suggest a Great-horned Owl attack. We got the radio back, so I made an emergency "roadtrip" (via Detroit and Toronto airports) there to trap at the nest where we tagged Da Rock and Aster only 14 days before, hoping to get the recovered transmitter on another fledgling. Another reason to go back was that Aster's radio was not transmitting. I was going to trap at her nest and hoped to catch her and swap out her radio for Daphne's. The ironic thing is that we took care of Viginia's radio--the one that Aster is wearing--exactly the way the manual says we should since we recovered it last fall. And for Da Rock's radio, recovered from Jocelyn last fall, we did everything exactly wrong. And of course now Da Rock's radio is fine while Aster's is not transmitting!
I got to St. John's at 1 AM on the 12th and spent the next hour and a half getting ready to trap at the Memorial University of Newfoundland's Botanical Garden as soon as the monsoonal rains that had been pummeling the area let up. When I got up too few hours later, it was foggy and drizzling--decent conditions for trapping. We had the noose carpet set over a heaping pile of four trout by 8 AM and backed off a power-line cut where we could observe the nest to wait for the action. The fog was so thick we could barely see the nest. Only 45 minutes later a young bird landed on the nest and was caught in moments. We hurried to the nest, hoping that we had either Aster or the untagged young. When I got to the top of the ladder I was disappointed to see that we had caught the one bird we didn't want to catch--Da Rock. I got him disentangled from the nooses on the trap and let him go.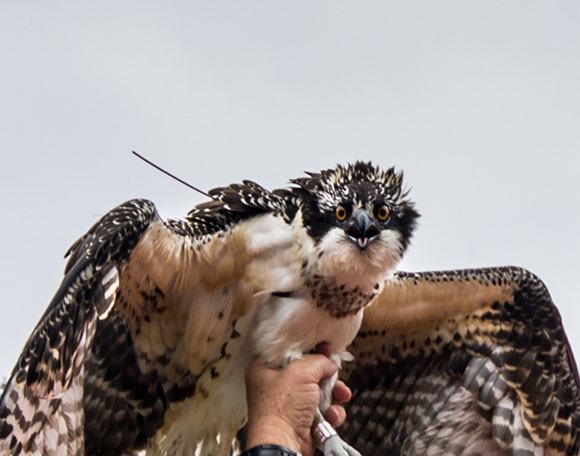 Then we settled in for the waiting game. After a couple of hours of nothing happening, I convinced myself that we weren't going to catch a bird. An adult flew by with a fish and didn't land. I imagined that he was feeding the young over near Oxen Pond, so the young wouldn't be lured back to the nest. Usually, about 15 minutes after I decide we won't catch a bird, we do. This is what happened this time--again. Around 11:45, the male appeared with a fish. One of the young flew to the nest to be first in line when lunch was delivered. The other young perched near the nest. The one that landed was caught quickly, but not struggling, so we waited, hoping the other young would hop down onto the nest and get caught. After about 15 minutes, the trapped young started to struggle a bit, so I went up the ladder and found a great big female young entangled in the trap's nooses. Unfortunately, it wasn't Aster, but we did get to put Daphne's radio on a new youngster. Following our theme of naming birds from the Botanial Garden with botanically related names, we called the bird "Borealis." The plant on the Botanical Garden's emblem is the twinflower, whose scientific name is Linnaea borealis. Borealis, of course means northerly, so that fits, too. Finally, the name obliquely recognizes Aurora Drew Hickey, an 11-year-old, Grade-5 student at St. Francis of Assisi in Outer Cove, who won Newfoundland Power's name-the-Osprey contest. Aurora suggested that the male Osprey—a trout-catching machine—over at the Stavanger/Snow's Lane nest be named "Beaumont" to honor the brave Newfoundland soldiers who sacrificed their lives in WWI. We're delighted that young students in the St. John's area are getting connected to their natural heritage through Newfoundland Power's nest-cam and Project Ospreytrax.
When I got back to the Project Avalon Osprey Project HQ at the Hickey Hilton later that afternoon, I checked the map and was blown away to see Da Rock down at the southern tip of the Avalon Peninsula. There he was at his nest at 8:45 begging for food as if he'd never caught a fish and would die of starvation in minutes, and then, after another scary encounter with a big monster on his nest, he decided that he'd had enough and that whatever there was down south was going to be more fun than what was happening at his nest. He started moseying first west and then south through the morning. By mid afternoon he was in full migration mode, moving 20+ km/hr for about 4 hours. That's not a bird that is just exploring. It's a bird with the migration switch in the "on" position. He may flip it off again and head back home, as Leif did last year before he took the plunge and left the Avalon Peninsula behind him in the great leap of faith, or he may be a real early bird and kick off the fall migration for our flock.
Elsewhere on "The Rock" (a.k.a. Newfoundland), Shana has been fishing a lot to supplement the fish Beaumont is bringing in to the Snow's Lane nest, which is building up quite a following on the Ospreys of Newfoundland and Labrador Facebook page. She was apparently trying to catch all the trout at the little pond in Bowring Park. Watching the nestcam, there has been an amazing, non-stop delivery of trout to Tommy and his nestmate, nick-named Lucky Jr. after she avoided being trapped for the whole marathon stakeout of that nest when we trapped Tommy back on 28 Aug. Both young will be loaded with high-energy fat to take on the big migration south over the Atlantic. Tommy has been doing some exploring while he and is sister have definitely not been playing nice over food deliveries. Each time a fish comes in, it looks like neither of them have eaten in a week, when in fact, the last trout probably came in about an hour before. Neither of these birds is going to run out of gas crossing the Atlantic!
Meanwhile down in Hurricane Alley, Holly last reported in from the Floriday Keys on the 7th, when Hurricane Irma was somewhere around Puerto Rico. She may still be somewhere in Cuba where we can't get any data from her cell-tower transmitter. It looks like she probably ducked under the worst of Irma. She was aimed towards the storm, but headed to the "right" (west) side of the it. Winds whip counter-clockwise around hurricanes, so she'd have met winds out of the north as she approached the storm. Those winds would push her the way she wanted to go and away from the worst of the storm, anyway, so there's hope for her. Last fall Virginia flew into the wrong (east) side of Hurricane Matthew, where the winds out of the southwest blew her to the US coast in front of the storm, which proceeded to roll over her. She did not survive. We should get news from Holly when she gets to Hispaniola or down in South America. If communications are compromised in the D.R. we may not hear from her for a long time. Last year she dodged cell towers all the way across northern South America and only checked in when she got close to her winter waters in the eastern tip of Brazil.
Our New Hampshire adult Staddler took off on the 9th, four days later than last year. He took a bit of a strange route, heading over open water from Long Island, NY, to the Outer Banks of North Carolina. Almost all adults stay over land on this part of the trip. We'll have to look at the winds when he left Long Island to see if that might explain it. His neighbor Flow, tagged in Essex, MA, in 2014, spent almost all summer in southern Maine and coastal New Hampshire, on the marsh where Staddler nests. They certainly saw each other. Whether they compared notes about their backpacks must remain a subject of conjecture. Flow moved down to Massachusetts, making me nervous as he played daredevil around Boston's Logan Airport. After dodging some caliber 747 bullets, he moved up to Salem to check in with a coven he heard about through the Osprey grapevine as he staged for his third trip south to Cuba. Flow is in the elite level of our tagged juveniles. He is only the fourth (out of 54) juveniles to make it through his second summer back on the breedng grounds. We've high hopes for him, given that he winters in Cuba and so doesn't have to risk the Caribbean crossing to South America.
Our Washington, DC, youngster Layla realized that the swamp was in fact not being drained and left her home on the Anacostia River way back in August. She somehow channeled Horace Greeley's advice to "Go west, young Osprey" and wound up on Senecaville Lake, in Ohio. She's been there for about six weeks. Must be a mighty fine lake. She may be a lingering young like Meadow, who found paywater (the Osprey's version of paydirt) in Michigan and stayed there until November 15th, or Leif who fished the river in Lewiston, ME, until November 7th. This has not proved a successful strategy, as both Meadow and Leif took so long to start migrating that they ran out of migration juice when they got to the Dominican Republic and tried to winter there. The D.R. is not an Osprey-friendly place. Neither survived.