2016 Biographies
New Adults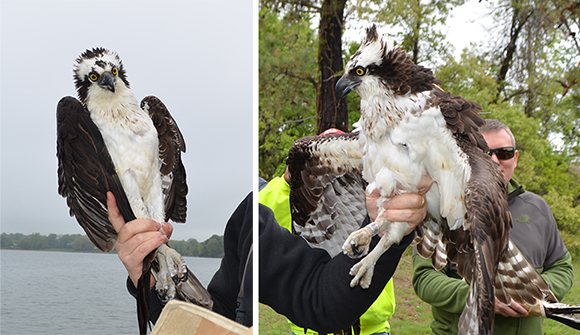 Holly and Hackett. On the 3rd of May we trapped a pair of young adult Ospreys on their nest just off of Hackett Point in Annapolis, MD. This is the spot where we tagged Woody in 2014, although the nest platform is new. Woody's old nest pole was swept away by winter ice in early 2015. When we headed to the nest we weren't sure if the birds had eggs yet. It turned out they didn't. I thought our chances of catching either of the birds were between slim and none. We went ahead and put 3 dummy Osprey eggs in the nest as well as 3 menhaden--a favorite item on the diet of any Osprey. Much to my delight and surprise, we had both birds captured in 18 minutes. Hackett, the male (on the left) and Holly have not laid eggs as of 27 May, and it is unlikely they will this season. (Of course I thought it unlikely we'd catch either of them, so take that with a few grains of salt!) We think these are young birds (there's no way to tell how old they are by looking at them), and it's not unusual for young birds to take a couple of years getting all the details of raising young worked out. Looking at the first several weeks of GPS data, it certainly looked like Holly had laid eggs. She began to spend the night at the nest, rather than in some woods west of it, as she did for the first few days after we tagged her. Hackett continues to roost north of the nest. Holly is now fishing for herself, suggesting Hackett isn't doing much courtship feeding anymore.
New Juveniles
We tagged two young this year--both in New Hampshire.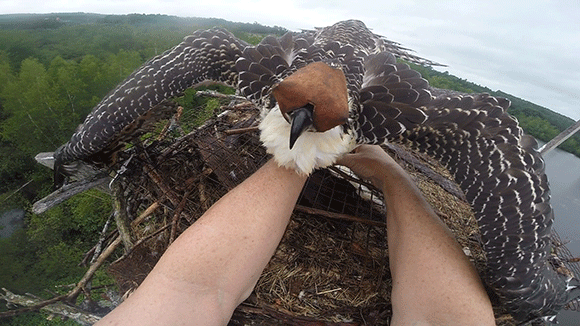 "Juliet" is a young Osprey trapped on 11 August at one of our two "Old Faithful" nests in central NH. This nest in Tilton, not far from the Winnipesaukee River. Juliet may turn out to be Julian. The measurements were ambiguous. If she's not a she, he's a big male. Juliet's father, Donovan, is still wearing his transmitter. We had hoped to trap him and remove the transmitter, but he was having nothing to do with the trap on his nest. We caught Juliet after a wait of not more than 15 minutes.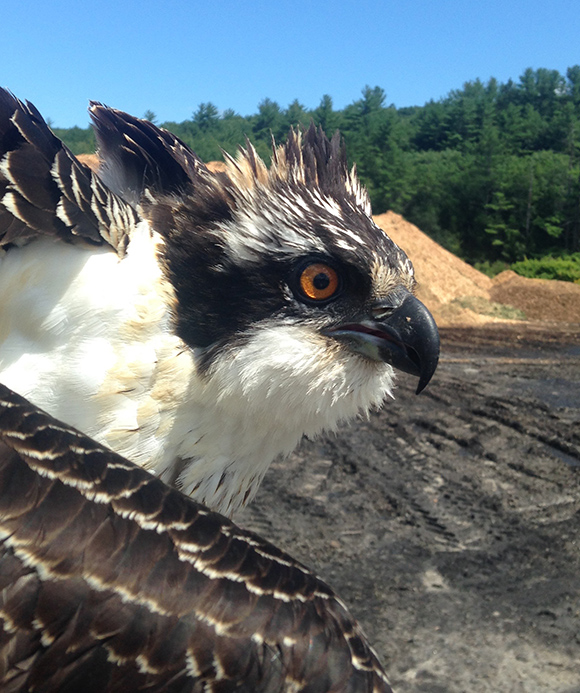 Our second young was tagged at our second New Hampshire "Old Faithful" nest. This one's in Bridgewater, NH. This is the nest where we tagged the adult male "Art" in 2012. In the summer of 2013, we trapped Art and gave his radio to his son, Artoo, while simultaneously trapping and tagging Artoo's brother Bergen. A year later, we tagged his sister Bridget, who settled down in Florida died there in the end of January 2015. Artoo survived both his 18 months in Brazil and his first trip north. He's now cruising around New England, footloose and fancy free. After waiting around for four hours at Art's nest through a long, hard rain on the afternoon of the 11th, we bailed and came back the next morning. The weather was gorgeous, but the trapping was a bit slow. Two of the three young fledged this year (Art is a very good provider) were noisily begging for good all morning. Art came in twice with fish, but he did not want to land on the nest--he saw the trap this time! So the young followed him downstream to get their fish from him. We did catch the female, whom we've caught before and should know better by now. We finally got "Lizzie" around 11:20. Lizzie weighed in at 1650 g (3.63 lbs), which almost certainly makes her a female. She was named after Liz Hager, a docent, trustee, and long-time supporter of the Squam Lakes Natural Science Center. (Had it been a male, I would have lobbied to call him "Zorro." The black mask on this bird is really striking.) The day after she was tagged, she took off and two days later she was in Rhode Island, 222 km from her nest. The satellite data showed that she was visiting a nest. A few emails later, we had confirmation that she was indeed mooching fish from the parents at that nest. This behavior is well known when young are flying around near their nest, but the first reported case of long-distance foster parenting. The picture of Lizzie here was taken by Butch Lombardi near her foster nest near Warren, RI, on the 18th of August. We're calling that nest the "Flophouse."