2015 Fall - New England
New England - Fall 2015 (7 Aug - 15 Dec)

Birds are listed in order of departure (2014 departure dates are shown if they were tagged and migrated south last year).

Move the gray rectangular slider at the bottom of the interactive map to animate the birds' movements.

Scroll down for updated commentary.

Snowy (gray), 8 Aug (17 Aug 2014) Martha's Vineyard, MA, 4-yr old female.

Lizzie, (dk. blue), 13 Aug. Bridgewater, NH juvenile female. Found dead beneath a power line around 26 Aug.

Edwin (yellow), 16 Aug (18 Aug 2014) Fishers Island (formerly) adult male.

Staddler (burgundy), 30 Aug. Hampton Beach, NH, adult male.

Artoo (red), 1 Sep. Bridgewater, NH, 2-yr old male.

Juliet (gold), 3 Sep. Tilton, NH, juvenile female (?).

Gundersen (teal), 7 Sep. Bristol, NH adult male.

Wassau (orange), 11 Sep. Groveton, NH, adult male.

Belle (aqua), 15 Sep. (19 Sep 2014) Martha's Vineyard 5-yr old female.

Charlie (lt. blue), 20 Sep (12 Sep 2014) Fishers Island adult male.

Donovan (lt. green), 20 Sep (18 Sep 2014) Tilton, NH, adult male.

North Fork Bob (white), 27 Sep (19 Sep 2014) Long Island adult male.

Flow (pink), (n.a.) Essex, MA, 1-yr old male on 'gap year' in Cuba.

Notes: I think I've got the colors right now, although they may show up differently on different computers.

Hover the cursor over a dot to see which bird is which. Click on it for location details

You can zoom in and out and move the map around. If you slide a birds marker along its path, you'll see where the other birds were when your bird was wherever you have the marker. You can also use the calendar to see where all the birds were on a given date.
Udates:
(Scroll up for interactive map)
20 Oct 2015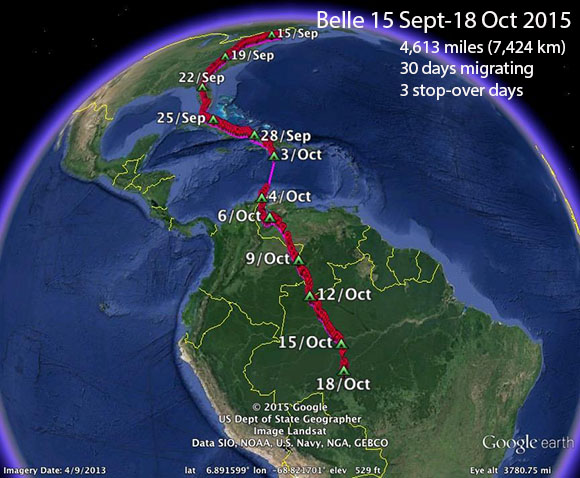 First the good news! Belle is safely home at her winter headquarters on the banks of the Rio Madeira in the Brazilian state of Rondonia. She traveled 4,613 miles (7,424 km) in 33 days, with a 3-day stopover are Lake Azuei, where she almost always stops for refueling. Other than that one stopover, it was all migration. As far as I know, only one other Osprey tagged as a "juvie" has been carried a live transmitter longer than Belle. A young bird with a mouthful of a name, Rothiemurchus, was tagged by the Osprey Guru of Scotland, Roy Dennis, in 2009. Rothie transmitted until Dec. of 2014, at which point the transmitter stopped moving on Rothie's wintering grounds down in western Africa. Like Belle, Rothie had not yet established a nesting territory so Roy can't check to see if he came came back. Based on our experience, it's most likely that Rothie died.
Two of our newly tagged adult male Ospreys from New Hampshire seem to have settled down for the winter. Gundersen is fishing the Masparro Reservoir just south of the Andes in Venezuela, and Staddler looks like he's back in familiar waters at Lake Tefe, where the Rio Tefe meets the Rio Solimoes (Amazon), about 325 miles west of Manaus, Brazil. Our other NH bird Wausau stopped for a while along a small river in the Magdalena valley in northern Colombia, but has since continued his move south. I didn't think he'd stay where he was. It didn't feel right, having seen quite a few wintering spots where other birds have stopped. Veteran NH male Donovan is back in the llanos of central Venezuela, killing time and fish until next spring.
Chesapeake Bay's Nick has been on a couple of unusual, long road trips, but is back along the Magdalena River in northern Colombia. His neighbor Quin is almost certainly at his winter HQ in central Cuba and will be out of cell-tower contact until he hits Florida in the spring. Likewise, our peripatetic male Edwin, tagged on Fishers Island but now an Osprey in search of a home anywhere but Fishers Island, is presumably safely ensconced at his winter spot along the Amazon. This is his third fall migration, and he's been as predictable as all his predecessors. I'm a bit worried about his former Fishers Island neighbor Charlie, who was last heard from in s. FL and has been off the grid since 26 Sept. Last year he was on his wintering grounds in n. Colombia on the 5th of October, and he was in a good spot for cell tower coverage if I remember correctly, so this has the feel of a bird lost somewhere over Cuba or the Caribbean, just like DJ last fall. It would be a real shame to lose Charlie because I'm dying to see if he does a crazy spring migration through Central America as he did this spring.
Our Cuban pair, Snowy (Martha's Vineyard) and Flow (ne. Massachusetts) seem boringly safe--just the way we like 'em from the fall to spring!
Finally, the bad news. North Fork Bob's body--or what the coyotes left of it--was recovered by Reinier Munguia from a large cattle ranch in Osceola County, FL. Our best CSI reconstruction of the events is that he may have been on the wrong end of an interaction with the resident Bald Eagles and been grounded due to injuries. The Audubon Center for Birds of Prey, a local raptor rehab center, sees more and more Ospreys injured by Bald Eagles as the Bald Eagle population continues to rise. Likewise, we've had no signals from NH juvenile Juliet (Donovan's daughter), so she's almost certainly dead after making it all the way to Venezuela.
13 October 2015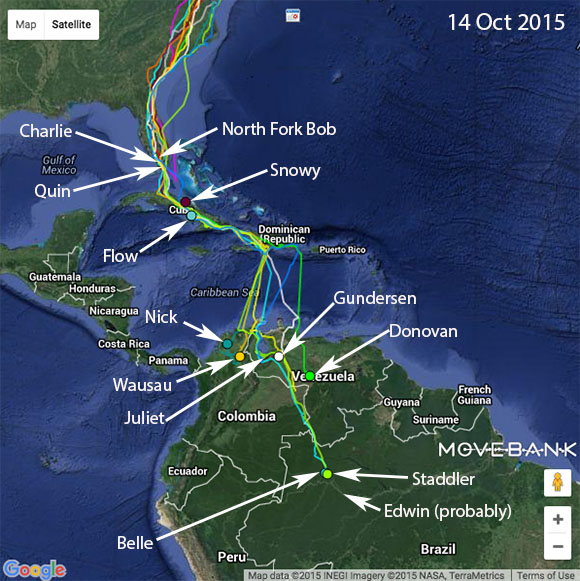 Sad news to start. Long Island's favorite Osprey North-Fork Bob is either dead or he dropped his transmitter. Last signals were on the 10th just east of the Kissimmee lakes in south-central Florida. He's been carrying the transmitter for 5 years. We're also worried about NH juvenile Juliet who missed a satellite upload on the 10th. She's been in Venezuela, between Lake Maracaibo and the eastern Cordillera of the Andes for about 2 weeks. Other than those two birds, the news is good. At least eight birds (including Juliet) are across the Caribbean. I say 'at least' because Fishers Island male Charlie may be across. He's a cell-tower bird who could be anywhere now between Cuba and South America. We last heard from him on 26 Sept, so he's had enough time to get to S.A. if he hasn't been distracted by some lake full of fish. Likewise, Quin, a male from the Chesapeake Bay, was last heard from on the 8th, crossing Key Largo--just 2 miles from the hotel I was staying in at the time. He won't have made it to the Caribbean yet, but is somewhere in Cuba. Our other Fishers Island male, Edwin, is presumably safely ensconced at his winter spot along the Amazon. He was last heard from in Colombia, just north of the Amazon rainforest, on the 8th of September after a very early start this year. Donovan (adult male) arrived at his wintering waters on 12 Oct, 23 days after leaving his home in New Hampshire. Gundersen a newly tagged NH male has settled down at the Masparro Reservoir just south of the Andes in Venezuela. This is the first year we've tracked him, so we don't know if this is his wintering area or not, but it sure looks like a good spot for it. My bet is that he stays there. Wausau, another newly tagged NH bird, arrived in Colombia on the 9th and is now in the Magdalena River valley, not far from Nick our other Chesapeake Bay male. Too early to tell if Wausau is going to stay in this area, but it's not unlikely. Nick is exhibiting some unusual behavior. He arrived at his wintering area in the Magdalena valley and has made two rather substantial "road trips" wandering away from his regular spot. Most adults get back to their winter HQ and stay put for the duration. Our third newly tagged adult from New Hampshire, Staddler, is in a neck-and-neck race with 5-yr veteran Belle, crossing the Amazon. Their paths are remarkably similar. They've been within a few miles of each other several times. Both are now south of the equator, with Staddler ahead by a beak. We know that Belle is going to the River Madeira at the southern edge of the Amazonian rainforest. We don't know where Staddler is heading. Snowy, a female tagged as a youngster in 2011 on Martha's Vineyard, certainly seems to be settled down for the duration. Snowy is an exception to the rule that adults always go back to the same spot every winter. Snowy has two winter homes. One is down in the llanos of Venezuela, where she spent her "gap year" 18 months after her first migration. The other is a spot in Cuba at Laguna de Leche (Milk Lake) in north-central Cuba. She found this spot on her first trip north in 2013. In the fall of 2013 she stayed there for the 5 month winter session. Last year, she stopped there for about 10 days and then totally surprised us by continuing on to her Venezuela hideout. Finally, Flow, a 2014 juvenile is still at his reservoir in south central Cuba. He'll be heading north next spring for the first time.
28 September 2015
The map was made in the morning and by late afternoon, Belle and Nick had made big moves. Belle is half way to Haiti and Nick is in Colombia, almost at his winter home...
No further signals from New Hampshire 2-yr old Artoo after the last upload somewhere between FL and the Bahamas. Major bummer. In contrast, our other NH bird tagged as a juvenile, Juliet, is the first of the current NH flock safely across the Caribbean. She's on the northern coast of the Gulf of Venezuela trying to figure out whether to head out across the water or follow the coast.
After his departure on 20 Sept (2 days later than last year) from Tilton, NH, Donovan caught up with Wausau and Gundersen, two other NH adult males, in central Cuba, where there is a New Hampshire traffic jam. Liz, from Essex, MA, our sole survivor from the 2014 juvenile cohort, is nearby watching many Ospreys pass by her Cuban winter home. Staddler is over in Haiti.
In Long Island Sound, Fishers Island male Charlie also started south on the 20th, leaving North Fork Bob as the winner of the New England "Last one out, turn off the lights" award this year. Charlie's last signal was in southern Florida. By now he's somewhere in the cell-tower black hole of Cuba. We'll probably hear from him once he gets to Haiti or the D.R.
Snowy is holding tight at the Laguna de la Leche. Still taking bets on whether she's going to spend the whole winter there as she did in 2013-14, or move on to her Venezuelan winter home as she did last winter. It's looking more and more like she's going to stay there, which is fine by me! She's precious cargo for us now as the second longest surviving tagged juvenile (behind Belle) and I don't want her crossing the Caribbean. (Of course as soon as I post this, she'll take off!)
22 September: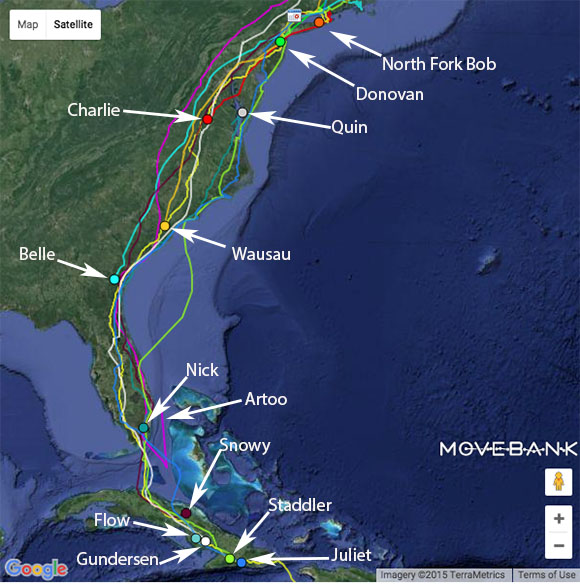 Very sad to report that we lost Artoo between Florida and Cuba. The pink track going north was probably him on a boat going north, and then at the end, apparently his body floating in the Florida Current. We have no idea what might have happened to him. There's no indication that there was any severe weather in the area, so this is a complete, and very frustrating mystery. We're not supposed to get attached to our study subjects, but we do. It's especially frustrating when a young bird makes it through the tough first migration cycle and then is lost on its second trip south.
All the New Hampshire birds are on the move, with Donovan bringing up the rear after his departure on 20 Sept (2 days later than last year). There's a traffic jam in eastern Cuba with Staddler, Gundersen, and Juliet all bunched up and about to head over to Hispaniola.
In Long Island Sound, Fishers Island male Charlie also started south on the 20th, leaving North Fork Bob as the winner of the New England "Last one out, turn off the lights" award this year.
Snowy is holding tight at the Laguna de la Leche. Still taking bets on whether she's going to spend the whole winter there as she did in 2013-14, or move on to her Venezuelan winter home as she did last winter.
15 September 2015: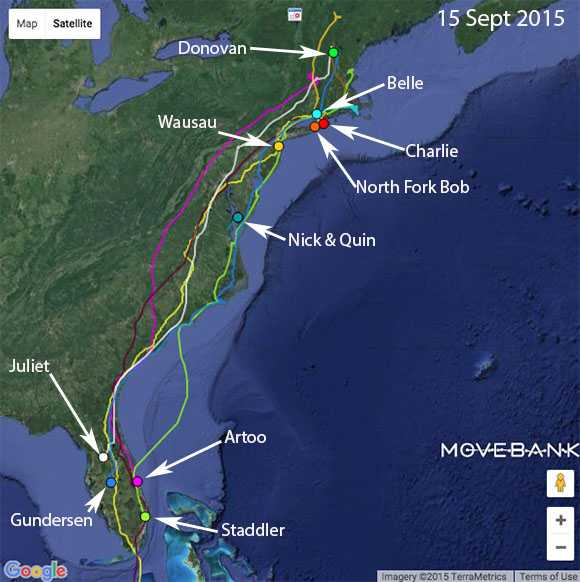 The cool, crisp weather and north winds have convinced a few more birds to get moving. Wassau left his nest area in central New Hampshire on the 11th and is now in northern New Jersey. He might get counted at the Cape May Hawk Watch in a day or so. Belle got going on the 15th, four days earlier than her start back in 2014.
We've got four New Hampshire birds in Florida now: Artoo (2013 juvie on 2nd trip south), Staddler and Gundersen (newly tagged adult males), and Juliet (newly tagged juvie on her 1st trip south. Our other New Hampshire bird, Donovan, is going for the "last one out, turn off the lights" award.
Around Long Island Sound, Charlie (Fishers Island male) is spending a lot of time on Gardiners Island, just as he did last year before taking off, so I suspect he'll leave soon. North Fork Bob seems to like his new nest and can't seem to tear himself away from it. They should both leave soon(ish).
Our two veteran males from the lower Chesapeake Bay (Nick and Quin) have been staying very close to home. They started south last year on the 18th and 26th, respectively.
8 September 2015: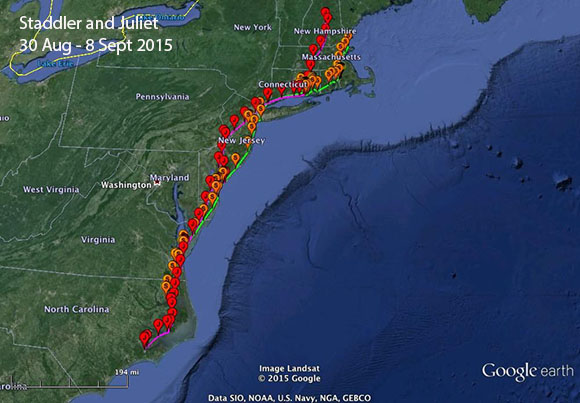 Of the 13 birds we have tagged, one (Flow) is not migrating. Of the 12 that are or will migrate this fall, half are on the move. The latest to get going were both from NH. Juliet (juvenile tagged on 11 Aug) got going on 3 September. Gundersen, an adult male tagged this summer 12 miles NW of Juliet's nest, started his migration on 7 Sept. Juliet caught up with Staddler, who started his migration on 30 Sept. Juliet and Staddler were 0.7 miles apart as they flew west along the Connecticut coast on 4 Sept, and a half mile apart on the 6th when they were both at Cape May. They were close again at Cape Charles on the southern tip of the Delmarva Peninsula.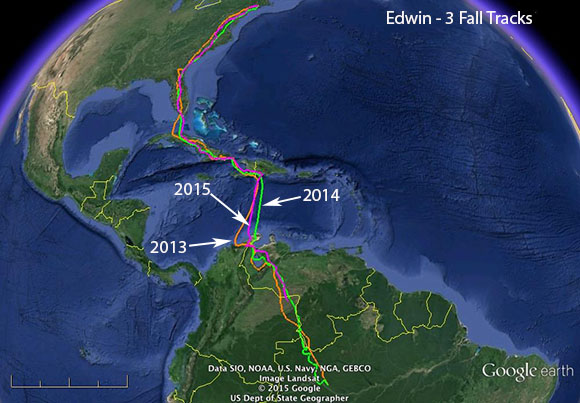 Edwin has been through Colombia, into Venezuela and back into Colombia. He's fairly close to his winter home along the Solimoes (Amazon) River, where there are no cell towers, so we probably won't hear from him again until next spring. His routes south have all been pretty similar (2013 is in orange, 2014 green, and 2015 hot pink).
Artoo, on his second trip south headed south from western Mass staying inland through Appalachians. On 7 Sept, he made it to the Georgia coast.
2 September 2015:
Our first bird is across the Caribbean--well almost across. When he downloaded (at 1:30 PM on 2 Sept) he was 10 miles from the Colombian coast. He left the D.R. at 6:28 PM on the 1st and 19 hours later had covered 386 miles, which is almost exactly 20 mph (33 kph). The crossing was made "down on the deck." His average altitude on the crossing was 17 m (51 feet). Only once was more than 30 m over the water.
1 September 2015:
On 1 September, Fishers Island male Edwin checked in via a cell tower in the Dominican Republic. We last heard from him in northern Florida on 22 August. Somehow he dodged cell towers through most of Florida.
Artoo, tagged as a juvie in central New Hampshire back in 2013 is heading south after an uneventful summer spent mostly in western MA.
We were dismayed to see that Lizzie's track stopped moving again. The first time we saw this, we were concerned but then discovered that she had adopted a new nest, 222 km south of her real home up in New Hampshire. This time, the news was bad. She was found dead beneath a high tension line. Her body was intact, so no predator was involved, she certainly didn't starve as she had been mooching fish from probably the male at the nest for a solid 2 weeks, and there were no obvious signs of electrocution, but that's my guess as to what happened to her.
On the positive side, our newly tagged adult male Staddler, started south from his nest on the marshes of Hampton Beach, NH, on August 30th. Today (Sept 1st) he is in Somerset, MA, just north Fall River.
Edwin is off the radar screen, somewhere between Florida and Hispaniola. This is typical of our cell-tower birds.
Snowy is still hunkered down at her favorite spot (Laguna de la Leche) in Cuba. Last year she got there on 25 Aug and left on 3 Sept. This year she got there on the 14th of August. The year before last she spent the whole winter there. Who knows what she'll do this year? Not me.
17 August 2015:
As in previous years, Snowy, a 4-yr old female tagged as a juvenile on Martha's Vineyard, was the first bird to migrate. As she did last year, she spent some time in SW Connecticut before heading south. Last year she started on 15 Aug, this year it was on the 7th. And she didn't waste any time! Just eight days after leaving CT, she was back at her favorite spot in Cuba. On her first trip north back in 2013 after leaving her wintering area in Venezuela, she stopped here for about a month. In the fall of 2013 she totally surprised us by stopping at the Cuba location and sending the 2013-14 winter there. Then she surprised us again in the fall of 2014, when, rather than winter in Cuba again, after a month or so at the Cuban spot, she got going again and returned to her place in central Venezuela. Who knows what she'll do this year? I sure don't.
One of the two juveniles we tagged in New Hampshire on the 11th and 12th of August, is already moving south! Lizzie is Artoo's sister. (Artoo was tagged in Bridgewater, NH, back in 2013.) Lizzie was one of 3 young fledged by Art, and adult male who carried a transmitter for the 2012-13 migration cycle. Art is a stud, routinely fledging 3 healthy young each year.