2014-15 Winter - All birds
All Birds - Winter 2014-15 (1 Oct - 30 Mar)

The continent-wide scale is boring, so zoom in on individual birds to see how they use their winter ranges over the course of the winter.

Move the gray rectangular slider at the bottom of the interactive map to animate the birds' movements.

Scroll down for updated commentary on each bird's movements.

Artoo (light blue), 2013 NH juvenile.

Belle (gray), Martha's Vineyard female(?).

Bridget (white) Ashland, NH, juvenile female.

Charlie (hot pink), Fishers Island male.

Clyde (teal), Long Island juvenile male.

Crabby (red), Chesapeake Bay female.

DJ (gold), Martha's Vineyard adult male.

Donovan (green) NH adult male.

Edwin (dark teal?) Fishers Island adult male.

Flow (yellow) Essex, MA, juvenile male.

Nick (orange) Chesapeake Bay adult male.

North Fork Bob (dark blue), Long Island adult male.

Ron (lt green), DC adult male.

Snowy (olive) Martha's Vineyard, MA, adult female.

Woody (burgundy) Chesapeake Bay adult male.

Notes: I think I've got the colors right now, although they may show up differently on different computers.

Hover the cursor over a dot to see which bird is which. Click on it for location details

You can zoom in and out and move the map around. If you slide a birds marker along its path, you'll see where the other birds were when your bird was wherever you have the marker. You can also use the calendar to see where all the birds were on a given date.
Udates:
(Scroll up for interactive map)
24 January 2015:
It's not usual to get a surprise in the middle of the winter. At least it wasn't when we had only satellite transmitters on our Ospreys. Now that some of our birds carry cell-tower transmitters, we occasionally have birds pop up after long silences when they wander into an area with celll tower coverage. This is what happened with Crabby, a female we tagged on Kent Island in Chesapeake Bay last spring.
In the fall, Crabby migrated to the northeastern coast of South America. She arrived in French Guiana on October 4th. It looked like she was going to settle down there. Then, just a day later, we stopped getting signals from her. I was worried because it did look like she had settled down, so we shoud have continued to get sporadic messages from her over the course of the winter. She was on the outskirts of Cayenne, the capitol of French Guiana. So that suggested cell coverage should be good, but it also meant she might have a high likelihood of being shot.
After 3 months with no signals, I assumed she was dead or had just moved to a spot without cell coverage (there's much more down in South America than one would expect). In either case, we probably would have to wait until spring when she either showed up again somewhere along her migration route, or just never reappeared, which would have meant something had happened to her.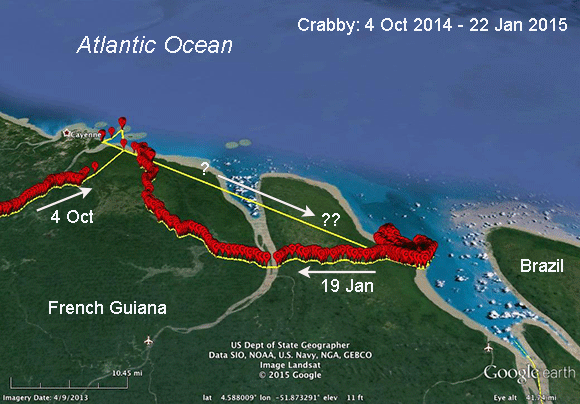 So it was a nice surprise to get an email with data from a transmitter number I didn't recognize. (Each message from a cell-tower bird has the ID of the bird.) It had been so long since I'd heard from her that I had to look up the number.
We're missing some data. We don't have any locations from Oct 6th through Dec 20th, so we don't know when she moved down, but from at least the 20th of December to th 19th of January, she was along the coast 50 mi. (80 km) southeast of Cayenne and 10 miles west of Brazil's northernmost state of Amapa.
14 November:
This map begins on 1 October. At that time, Artoo (juvenile tagged in 2013) was moving around a bit, but basically settled down (he'll come back next spring), Snowy (MVY bird from 2011) had returned to her winter range from 2011-2012, Woody was back west of Lake Maracaibo in Venezuela, Clyde (2014 young from Long Island) seems to have settled down on the eastern shores of the Gulf of Venezuela, and Bridget is showing all signs that she thinks Vero Beach, FL, is a good place to spend the next 18 months.
Flow (2014 juvenile from Essex, MA) hadn't really started migrating with any conviction yet and was still up around Chesapeake Bay, North Fork Bob (always a late starter in the fall) was in western Cuba, Belle (tagged as a juvenile on Martha's Vineyard in 2010), Charlie (Fishers Island adult male tagged in 2014), and Ron (adult male tagged in Washington, DC in 2013) were all within about 80 miles of each other in southeastern Cuba.
By 14 November, it seems almost everyone has settled down for the winter. North Fork Bob did his usual thing of stopping for a while in the flooded grasslands (llanos) of central Venezuela. He's now moving up into the highlands of the Guiana Shield, where he has spent all his previous winters along the Ventuari River. His radio missed a few transmissions, so I won't be surprised if we lose track of him like we did last year with his 2010 Classmate Sr. Bones. The youngsters (Bridget, Flow, and Clyde) may move again, but I'd be very surprised if they make any major moves south.