2013 Biographies
Adults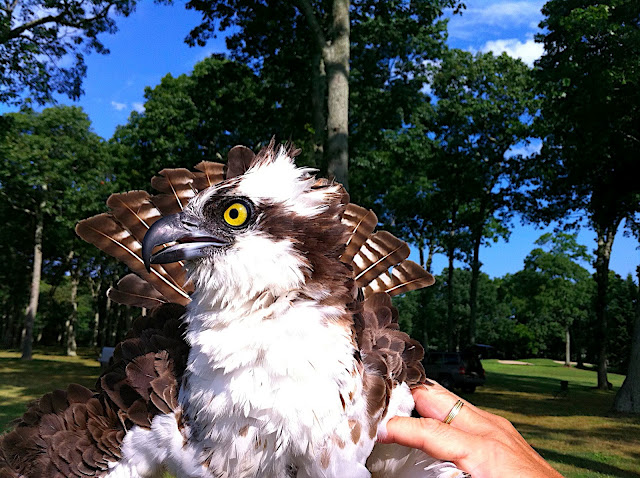 North Fork Bob was trapped near Mattituck, NY, on Long Island's Peconic Bay on 1 May 2010 while we were trying to catch a young at a nest on the North Fork Golf Course. He was a young male with no attachment to the nest. He just happened to be flying by and saw the fish we had for bait under our trap. We've been following him and Sr. Bones (Nantucket male) for longer than any birds we've ever tagged (four fall and spring migrations as of 2014). Bob spends his winters in the Guianan Shield highlands of southern Venezuela on the Ventuari River. He has yet to find a mate and raise young. He has his eyes on a nest close to where we trapped him, but he keeps getting run off by the resident male.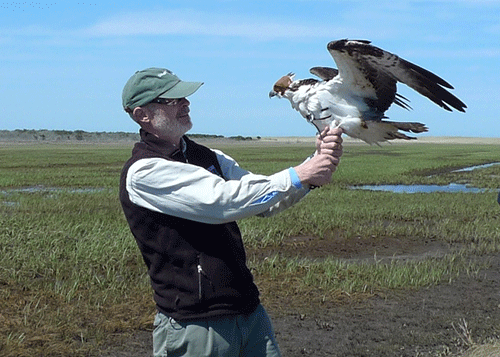 Sr. Bones, an adult male on Nantucket, was first banded as a nestling in 2005 four miles from his current nest. "Sr. Bones," pictured here in the capable hands of Dr. Bob Kennedy, my colleague on Nantucket Osprey tagging, was named by Nantucket's 3rd graders (probably my favorite name of all time). Bones migrates to a mountain valley in the eastern chain (Cordillera Oriental) of the Andes in Colombia. His wintering range, high in the mountains, looks as unlikely a spot for an Osprey to spend five months in as one could imagine. There must be something great there, because he typically never moves more than a couple of miles for the whole five months he spends down there. His radio finally began to falter in the fall of 2013 just after he arrived at his regular spot. We're hoping to retrap him this spring and get the transmitter back. Bones' transmitter finally failed in the fall on 2013. Bones is fine, though, spotted back on his nest at Coskata Pond this spring.
Belle may be our most interesting bird so far. She was trapped as a fledgling at a nest on Lake Tashmoo on Martha's Vineyard's north shore off the coast of Massachusetts on 28 July 2010. She is the first young we have had complete three fall and spring migrations. She winters in Brazil near the Madeira River at the southern edge of the Amazon rainforest. She has returned to Martha's Vineyard three times now. The picture here, taken by Mark Lovewell, shows Belle flying over Deep Bottom Cove on the Vineyard on her first trip back from South America. She spends a lot of time at Deep Bottom as well as at a couple of ponds over on Cape Cod. We're hoping that she will find a mate in the spring of 2014.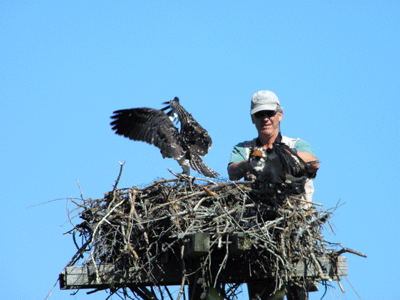 Snowy was trapped as a recent fledgling at his nest on Snow Point on Chappaquiddick Island (part of Martha's Vineyard Island just south of Cape Cod, Massachusetts. Snowy's first migration took her to the seasonally flooded grasslands of central Venezuela. She spent the typical 18 months down there, returning in the spring of 2012. On her first trip north, she stopped at a big marshy looking area in northern Cuba. She spent three weeks there, leading us to wonder if he would finish her first migration north (some young do not). She eventually did make it back to the Vineyard and spent the early summer moving back and forth between the Vineyard and Cape Cod. then in early July she moved up through Massachusetts and down to the southwest corner of Connecticut, where she spent about five weeks. In mid August, she got moving south on his second migration. We were really surprised when, as she was moving south through Cuba, she retreated somewhat to get back to the marsh where she spent the three weeks in the spring. She spent the winter there and is now back doing the Cape-to-Vineyard commuting thing.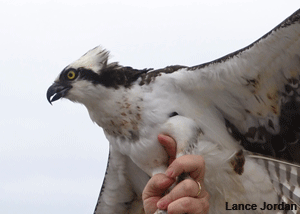 Tango is an adult male trapped at a nest on Tangiers Island out in Chesapeake Bay off the Virginia part of the Delmarva Peninsula on April 23rd. He was caught first (typical of females), has more of a chest band than most males, and weighed in on the heavy side for males, so I wasn't sure if he was the male of this pair. That is, until we caught his mate, who tipped the scales at just over a kilogram (2.2 pounds), removing any doubt from our minds. She's about as big as they come. He is wearing one of the new generation of transmitters that talk to us via cell-phone towers. Tango wintered on Lago (Lake) Valencia in northern Venezuela. He disappeared in February and did not return to his nest, so we have to assume he died somehow somewhere between Venezuela and Florida.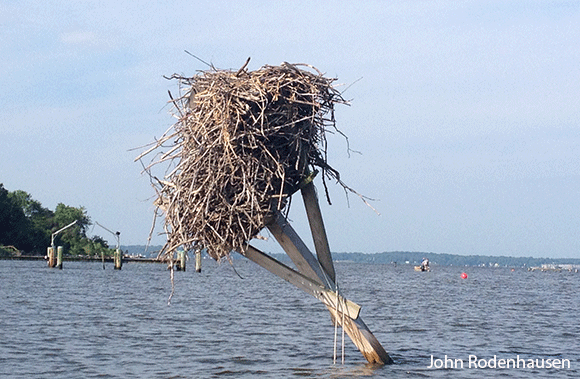 Woody was trapped at the Holly Beach Farm near the Annapolis end of the Bay Bridge over the Chesapeake Bay on April 24th. His nest is a rather Dr. Zeuss-like structure built atop a pole out over Chesapeake Bay. The pole is now at about a 45-degree angle. As the pole has tilted more and more, Art and his mate keep building the nest, leveling it off as the go. Woody in wintering in Venezuela, just west of Lake Maracaibo. He is not far from where our young from South Carolina, Buck, spent his first 18 months on his wintering waters. Woody's back at his Dr. Seuss-like nest on the shores of Chesapeake Bay near Annapolis, MD.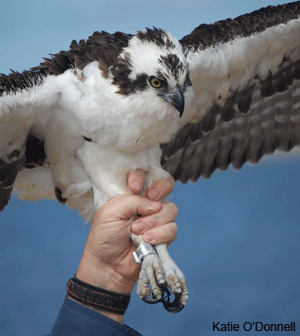 DJ is an adult male named for my right-hand man, Dick Jennings, who found this pair nesting on the ground atop a sand dune on Chappaquiddick Island. They've upgraded their housing to a short pole out on the marsh near the dune they once (unsuccessfully) called home. Too many skunks patrolling the beaches to nest on the ground. That's the excuse we're using for him, although he hasn't raised young in the two nesting seasons since upgrading to a platform nest. He was tagged on 1 May 2013. The early data from his cell-tower transmitter suggest that he's not a very good provider. His prolonged absences from the nest, which failed again this spring, are just what we saw from him in the past two years. He wintered in northwestern Venezuela and is back on the Vineyard, seemingly being a more attentive parent than he has been in the past.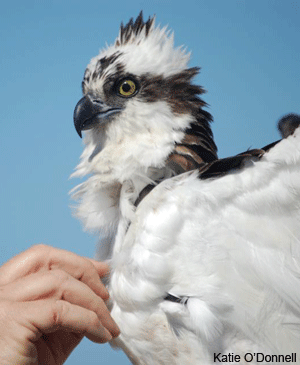 "Icarius" is an adult male nesting near Homer's Pond on Martha's Vineyard's south shore. I banded him back in 2008 when we were capturing Homer. So, he's at least 10 years old (he would have been at least 4 when I banded him). We also trapped Penelope (in 2007) at this very successful nest. We named this bird after Penelope's father. To marry Penelope, Odysseus had to beat Icarius in a foot race. He won. Our Icarius is a proven male--his nest has always fledged healthy young. He got a cell-tower transmitter on May 2nd. Well into the season, much to our surprise, the nest failed. His cell-tower transmitter provided an amazing picture of his foraging behavior. With locations often as frequent as once a minute, we can see everywhere he went. He did a lot of fishing off the south shore during the mid-summer and then shifted his attention to the waters off Menemsha. He is wintering on the coast of French Guiana, where he does a lot of fishing out in the ocean. He's the first bird we've tagged that has settled down on the beach. We lost his signal in February, when he should have been heading home, so we have to assume he died somewhere along the way home.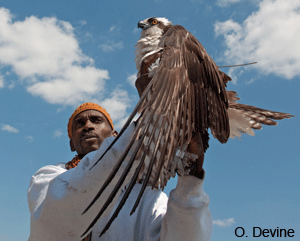 Rodney is an adult male named for Rodney Stotts (seen here holding Rodney the Osprey just prior to release), a founding member of the Earth Conservation Corps, where Rodney found his love for raptors. Rodney has devoted his life to engaging youth in the restoration the Anacostia river. His new effort, Wings over America, has sponsored the two DC transmitters with Earth Conservation Corps. Rodney works with the ECC to "empower our endangered youth to reclaim the Anacostia River, their communities, and their lives." Rodney's experienced hand was a great help in tagging the two Ospreys (Ron Harper and Rodney) tagged in DC this spring. Rodney, tagged with an "old fashioned" (not a cell-tower) satellite transmitter on 26 April. His nest was unsuccessful this year (this may have been his first nesting attempt). He wintered just 100 miles west of Donovan, one of our adult males from New Hampshire. When Rodney got back to the Anacostia River in SE DC, he found his mate had taken up with a new male. He may be trying to start a new nest on another pier off the SE Capital St. Bridge.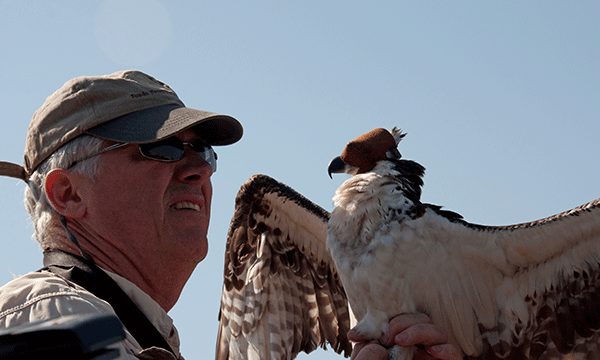 Ron (Harper) nests on a wooden pier off the East Capital St. Bridge over the Anacostia River. Three other pairs (including newly tagged Rodney) nest on the bridge. Ron's nest is in the shadows (when the sun is really low) of the National's baseball stadium. He was named in honor of the hard-working, devoted father of National's star Bryce Harper, in the expectation that Osprey Ron will do as good a job raising his kids as Ron Harper did. The name was appropriate--Ron and his mate raised two young that summer. Ron is spending his winter in the Brazil, where he is fishing some ox-bow lakes just a few miles north of the Amazon River. Like his neighbor Rodney, Ron made it back to DC only to find his mate from last year already sitting on a clutch of three eggs, mated to a new male! Bummer.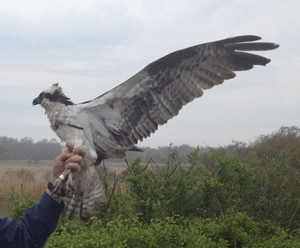 Edwin is an adult male trapped at his nest near Beach Pond on Fishers Island, NY, on May 11th. Fishers Island is a skinny, 6-mile long island just a few miles south of southeastern Connecticut at the mouth of Long Island Sound. Edwin was named in honor of Edwin Horning, long-time island teacher and naturalist at the Henry L. Ferguson Museum, the Fishers Island institution that arranged funding for this cell-tower transmitter. Edwin's nest failed not long after we tagged him. After the nest failed he spent more and more time fishing over in Connecticut. He migrated to Brazil and spent his winter near the Amazon River. He's back in the vicinity of his old nest on Fishers Island, NY, but he strangely did not return to his nest other than a few brief visits a full 10 days after he got back to Connecticut. He's now wandering all over SE Connecticut, as far east as western Rhode Island, and even down to the Mecca of Osprey colonies on Gardiners Island.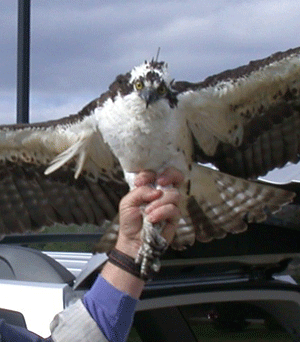 "Donovan" is an adult male, father of Jill and Chip, the two New Hampshire fledglings we tagged last summer. His nest is on the grounds of the massive J Jill distribution facility in Tilton, NH. We trapped him on May 13th. He was named for the Donovan Tree Experts, whose owner J. Dallas Worth generously spent two days driving their bucket truck around New Hampshire masterfully getting me up to our target nests. Donovan successfully migrated to the grassy wetlands of Venezuela called the llanos. Remarkably, 4 days after Donovan arrived at his winter home, Artoo, a juvenile tagged at a nest about 20 miles from Donovan's, settled down about 5-10 miles east of Donovan! Artoo moved south in the early winter all the way to the Amazon. Donovan safely returned to New Hampshire, where he and his mate have a clutch of eggs "in development."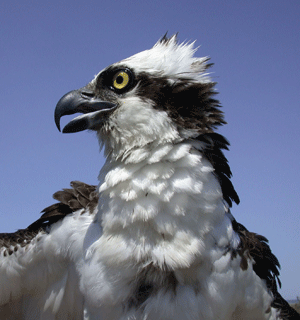 "Nick" is the last adult male tagged in 2013. We caught him on 17 May at Port Isobel on Tangiers Island in Chesapeake Bay. We finally got him--in the Nick of time--with very little time left in our day before we had to get on the boat and head back to the mainland. We gave him a cell-tower transmitter. His nest had 3 eggs. We don't know the outcome of his nest, but suspect it failed. He wintered in the Magdalena River Valley in northern Colombia and si now back on Tangiers Island in Chesapeake Bay. His nest is remote, so we don't know yet what's going on with his breeding activity this year.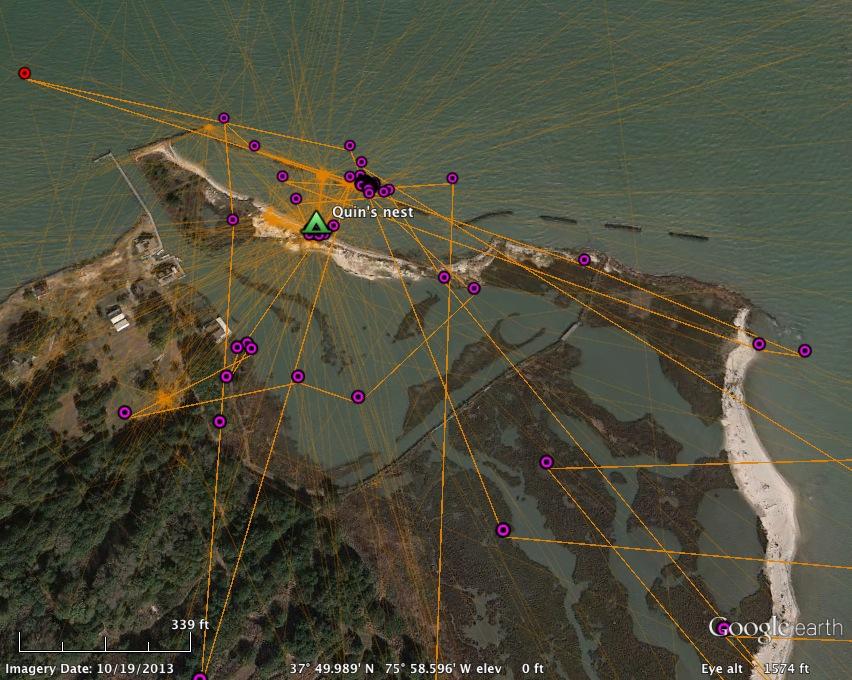 Quin is an adult male, neighbor of Tango, tagged with a cell-tower transmitter on Tangiers Island on 17 May 2013. (Quin somehow managed to get processed without anyone taking a picture.) His nest failed at some point early in the nesting cycle. Our last signal from his transmitter was in Florida. It was only when he started north in the spring of 2014 that we learned that Quin had spent his winter in Cuba. He's back on his nest now (May 2014).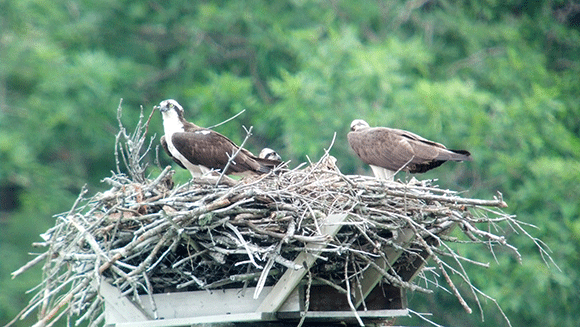 Art, seen here with Mrs. Art and one of his young, was trapped near Bridgewater, NH, on 29 May 2012. He migrated deep into eastern Brazil where he fished the Araguaia and Tocantins Rivers until his return in the spring of 2013. We retrapped him on 12 August 2013 and moved his transmitter to one of his sons, whom we named--naturally--Artoo! We tagged another of his sons, which we named Bergen, when we trapped Art. In fact, we had three birds in the trap within about 15 minutes of setting it on the nest. Luckily, the third of the young fledged from the nest in 2013 did not get caught at the same time! Art made another successful migration, presumably to the same place in eastern Brazil and is back again on his nest.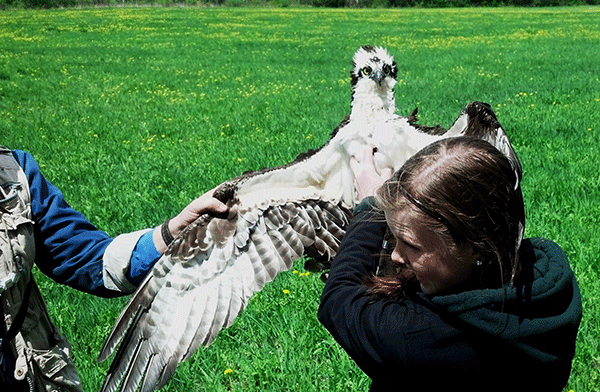 Mackenzie, an adult male, was trapped on 14 May 2013 at his nest on the banks of the Connecticut River in northern New Hampshire. He's the northernmost bird we've tagged. His nest is only about 25 miles from the Canadian border. Sadly, Mackenzie was killed by another bird of prey--probably a Northern Goshawk or maybe a Great-horned Owl--at his roost on 21 September. We were able to find the scene of the crime--lots of feathers, the leg with the band on it, but not the body with the transmitter.
Juveniles
Overview - We had a tough year, losing 7 of the 8 young we tagged in the summer. Two still remain--coincidentally New Hampshire brothers Artoo and Bergen.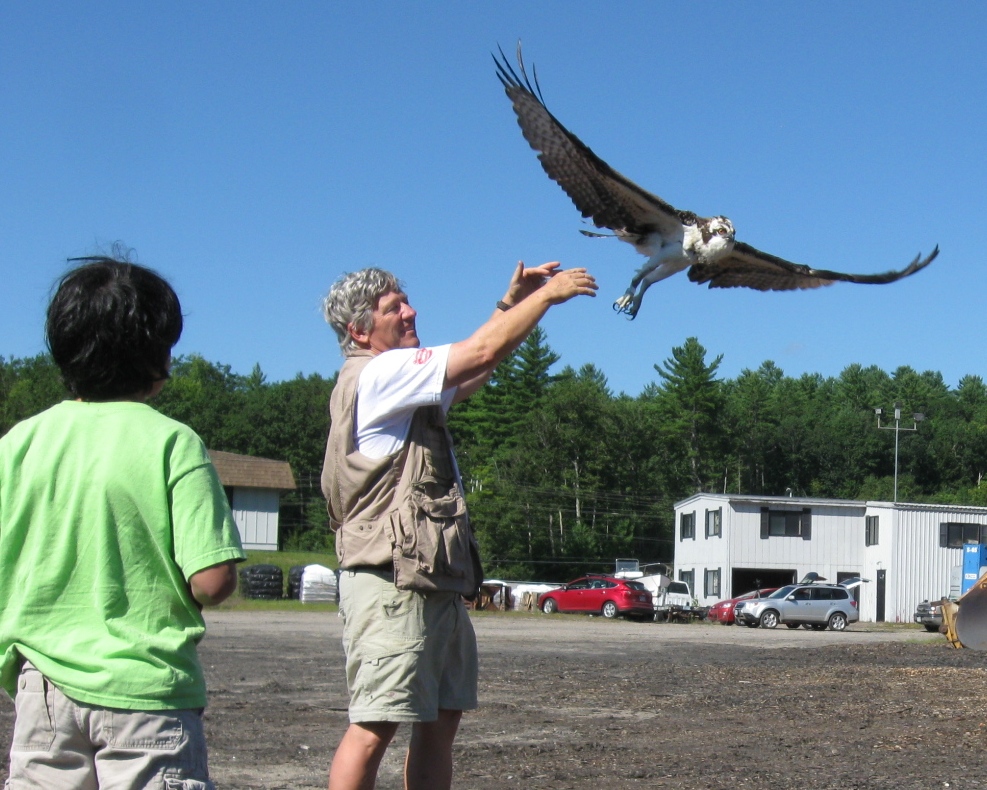 Artoo was trapped along with his father Art and brother Bergen at his nest in Bridgewater, NH, on 12 August 2013. We removed Art's transmitter and placed it on Artoo. Artoo migrated to Venezuela, where he spent some time in the grassy wetlands called the llanos. In late January, he made an unusual move south, covering almost 1,000 miles. He stopped for a few days only 100 miles north of his brother Bergen, and is now (14 Feb 2014) moving up the Amazon River (called the Solimoes in Brazil).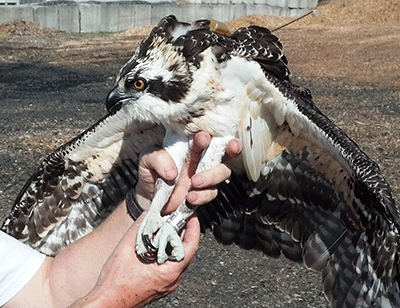 Bergen was trapped along with his brother Artoo on 12 August 2013 at their nest in Bridgewater, NH. He migrated to the Brazilian Amazon where he was fishing the Rio Purus and some of its associated ox-bow lakes about 270 miles southwest of Manaus. Surprisingly, we lost his signal during the early winter. This was surprising because he had settled down, and that's usually an indication that a bird will make it through the winter. Ironically, Bergen's brother Artoo is the wanderer and he has survived.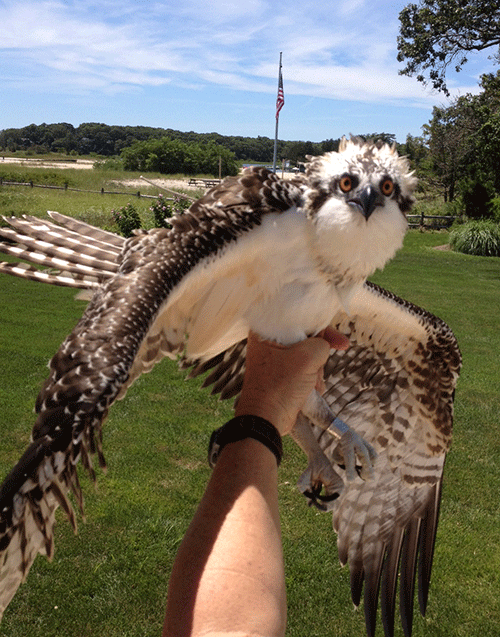 Pearl was trapped at her nest on the north shore of Peconic Bay on 5 August. Sadly, she didn't last long. On her first real trip away from her nest her signal stopped moving on 10 September. We suspect Great-horned Owl predation, as we usually do in these "death-by-woodlot" cases. Mike Scheibel and I looked hard for the bird but could find nary a feather. That's the last time I'm going looking for a transmitter without my brush chaps on! A lot of the area was a nasty tangle of bull briar. Ouch.